This post may contain affiliate links. Please see my full disclosure policy for details.
Halloween Costume Shirts : These Halloween shirts are the easiest way to celebrate with your favorite trick or treaters this year. Just grab one of these fun costume shirts and go!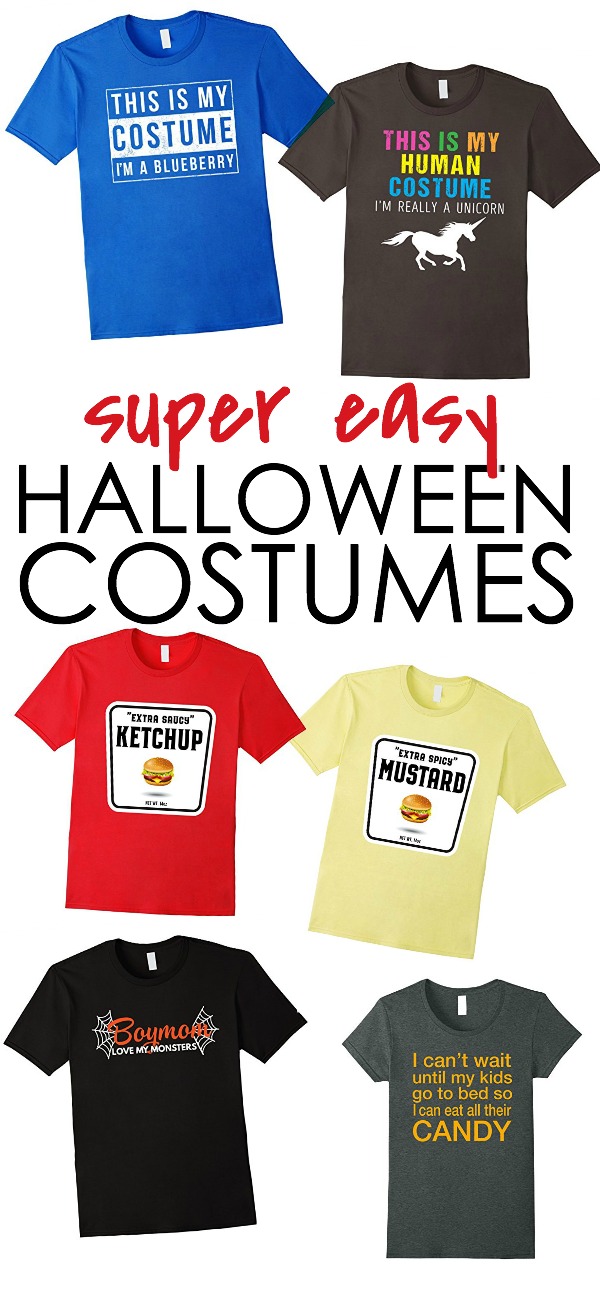 Dressing up for your next Halloween costume party has never been easier. Just grab a fun Halloween shirt and you're dressed to celebrate with everyone else. There are tons of Halloween costume shirts to choose from, too! So finding the perfect one to reflect your fun loving personality will be super easy.
Check out our Halloween Costume Ideas for Teen Boys, too!
When the boys were little, I loved dressing them up in costumes for Halloween. I enjoyed it so much that I would actually start months before just brainstorming ideas of what we could create. After finding the perfect store bought costume or even making our own, I had usually spent loads of time shopping and creating by the time Halloween came around.
That's why my husband and I hardly ever dressed for it. After spending so much time on getting the kids ready, our Halloween costumes were usually just something we had used before or we didn't dress up at all. Nowadays, though, it is super easy. You can pick up a fun Halloween costume shirt and wear it to every party and festival. Here are just some of my favorite finds for this year's Halloween.
My husband doesn't care a thing about dressing up for Halloween, so these are perfect. He'll be comfortable and can keep this on hand for years to come.
There are lots of these simple t-shirts with funny sayings. You just can't get any easier for a Halloween costume than throwing on a t-shirt with your favorite pair of jeans.
I love the mom Halloween shirts! Since moms are usually the ones running around trying to put together everyone else's costumes, she doesn't always even think about wearing something for Halloween herself. These cute Halloween shirts for mom make it so much easier. They'll be fun to wear when shopping for Halloween treats and helping at those school events, too.
These are so cute for couples! After getting the kids ready for trick-or-treating, Mom and Dad can wear these Halloween shirt sets. I think they're just fun for any time of the year. These would make great Christmas gifts for couples, too.
If you want a little more costume to your Halloween costume shirt, then go for one of these superhero versions. These are always popular ideas for Halloween parties and they're also fun ones to wear to superhero birthday parties, too.
Other Topics You May Enjoy