This post may contain affiliate links. Please see my full disclosure policy for details.
Now that it's September, I'm celebrating with all things apple.
And this time I'm sharing a Green Apple Sugar Scrub that smells delicious enough to eat!
Who else loves those wonderful smelling body scrubs that leave your skin feeling silky smooth?
This one is perfect for this time of year. With just a hint of Granny Smith apple, it's a great gift idea for a sweet surprise and an inexpensive splurge for yourself after a busy day.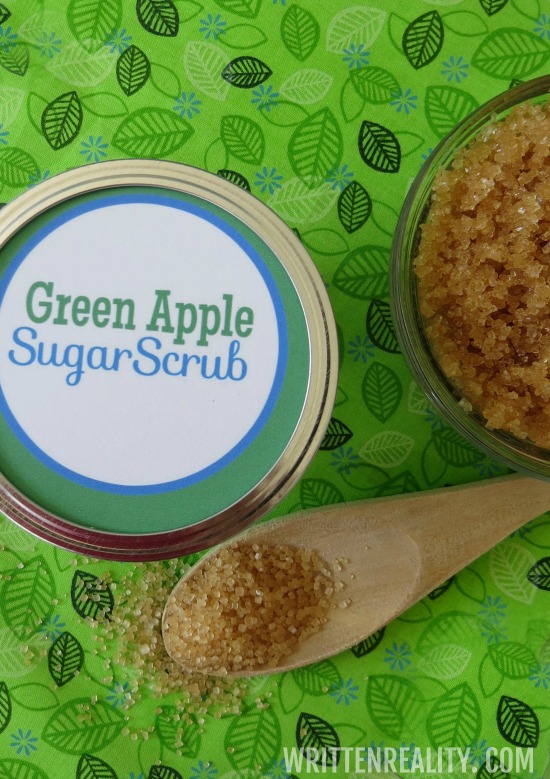 Homemade Green Apple Sugar Scrub
Unfortunately, spa days–for this busy mama–are slim to none, and with the cost of those overpriced department store versions, a body scrub has always been a luxury item or one I'd splurge for on very special occasions.
A few months ago, however, I tried my hand at a homemade version. Now I'm hooked on the do-it-yourself sugar scrub variety. They're inexpensive, easy to adapt to your aroma preferences, and leave your skin just a smooth as those you'd find at the spa or in a department store.
Basic Sugar Scrub Recipe
If you search sugar scrub recipe online, you'll find pretty much the same combination of 3 parts sugar to 1 part oil.
After that, the recipes are based on your own imagination–and your preferences.
You can use pretty much any oil you want to and sugar that's either white, raw, or brown.
Here's my own version based on my love for all things apple.
Green Apple Sugar Scrub
3 parts raw sugar
1 part Coconut Oil
Just a note: I used the apple scented version of P&J Premium Fragrance Oil for this recipe. It's not overpowering and has a hint of sweet.
That's all there is to making any sugar scrub. It's an easy way to create a wonderful spa-like evening for yourself and it's so inexpensive since you can find most of the ingredients right now in your own home.
I've also created a fun jar label if you'd like to try the Green Apple recipe for yourself and share with a friend. Just print out the label and attach it to the top of a decorative glass jar.
FREE PRINTABLE FOR : GREEN APPLE SUGAR SCRUB LABELS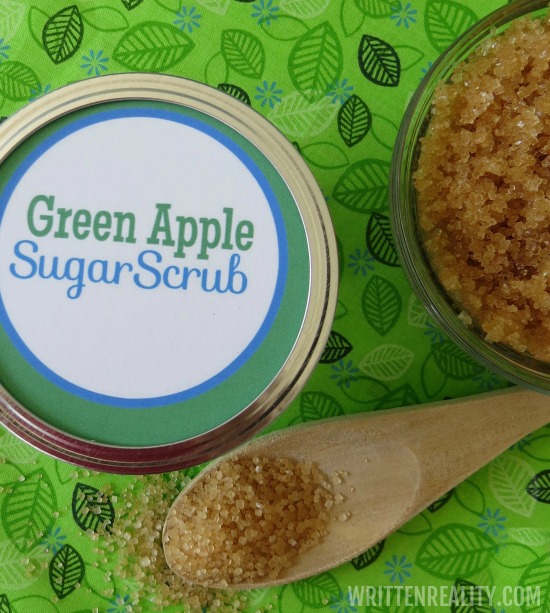 Other Topics You May Enjoy