This post may contain affiliate links. Please see my full disclosure policy for details.
This shop has been compensated by Collective Bias, Inc. and its advertiser. All opinions are mine alone. #PurinaPetPack #CollectiveBias
Need some ideas on how to get your older dog moving? Here are a few tips on how to keep your dog active and happy.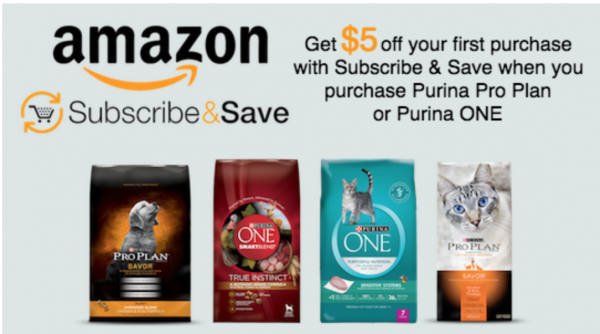 This past year I noticed my dog, Millie, had packed on a few pounds around her middle. She's a Maltese with lots of fluffy fur already. But now I noticed that it wasn't so much all that white fur giving her most of the fluff in the middle.
Now I've always used Purina products. Our vet started Millie on Purina One's healthy puppy formula from the beginning and we've used Purina products ever since. So for Millie's sudden weight gain, our vet suggested the healthy weight formula, and after trying it for a few weeks, she was able to easily shed those extra pounds.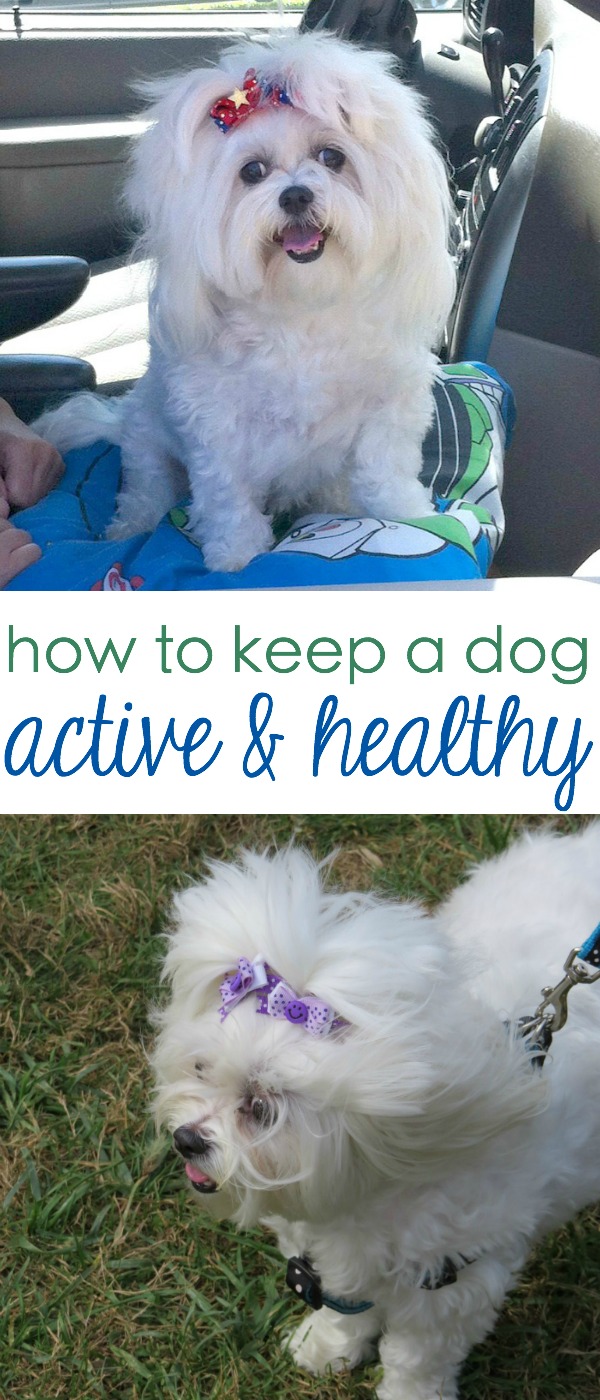 Since then, I've been doing just a few other things to keep Millie active. She and I both have become a little on the lazy side and I knew it was time for us to get moving. Being a Maltese, she's not the type of dog who loves running and I'm not the type of girl who likes a jog around the park, either.
Instead, I decided to come up with a few fun ways to keep us active that we could both enjoy. Here are some things I've done lately to keep Millie moving.
How To Keep Your Dog Active
Stick to a walking routine.
Since Millie isn't one of those dogs that's super excited to walk the block, it's important to keep to a consistent walking routine. That way, walking around the neighborhood is a normal part of her day and she's more cooperative because it's part of her regular schedule.
Rotate her dog toys.
The other day, Millie discovered one of her old toys under the sofa and kept barking until I would retrieve it. She's been carrying that old toy around with her ever since as if I had given it to her as a brand new surprise. Rotating through her dog toys has been a great boredom buster and a way to vary playtime, too.
Teach your dog a new trick.
Now I know they say you can't teach an old dog a new trick. However, teaching your dog a trick can be lots of fun no matter how old she is. There are all sorts of easy dog tricks and even instructions online on how to teach them. Just have fun with it. Teaching your dog a new trick is a great bonding exercise while keeping you and your dog active, too.
Designate a play date.
Just like scheduling a walk around the neighborhood, keeping a regular play date will keep your dog moving. Aside from the daily walk, make sure to set aside a little extra time each day to play fetch and your dog's other favorite games, too.
Explore new places.
Millie loves road trips. She loves sniffing around and exploring a new place. She seems to be happiest and much more willing to run around a bit when we take her someplace new outdoors.
Feed your dog the right food.
Feeding your dog the right dog food is a great way to keep your dog active. All dogs are different and require different types of dog food based on breed and age as well. That's why I've always adjusted Millie's food according to her age and her specific needs as she grew older.
This time, since Millie has done so well with Purina products, I thought I'd try her on the Purina® ONE® SMARTBLEND® True Instinct Formula with real salmon & tuna dog food, so I grabbed my son's iPad and began my search.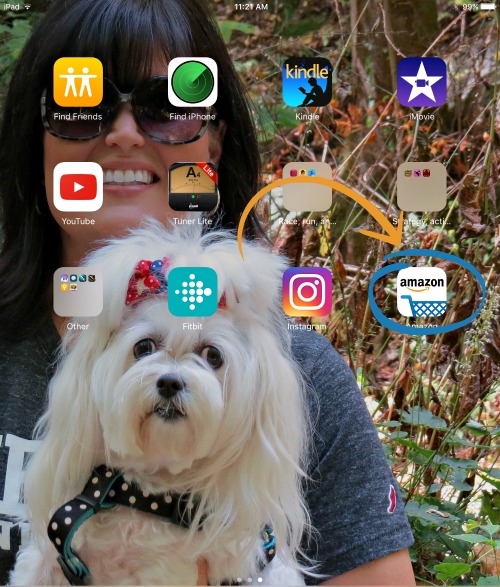 Now I'm not a big fan of shopping. As a busy mom on a budget, I would rather spend my time with my family doing things around the house where even Millie can join us, rather than spending an entire day driving from store to store trying to find whatever is on my shopping list.
You know how that usually goes. By the end of the day, I'm usually exhausted and carrying home bags of stuff I never should have bought in the first place.
That's why I love Amazon. It's become my go-to for buying pretty much everything because I can shop from home when it's most convenient for me. When I'm interested in a new product or need to replace something, I hop over to Amazon to begin my search.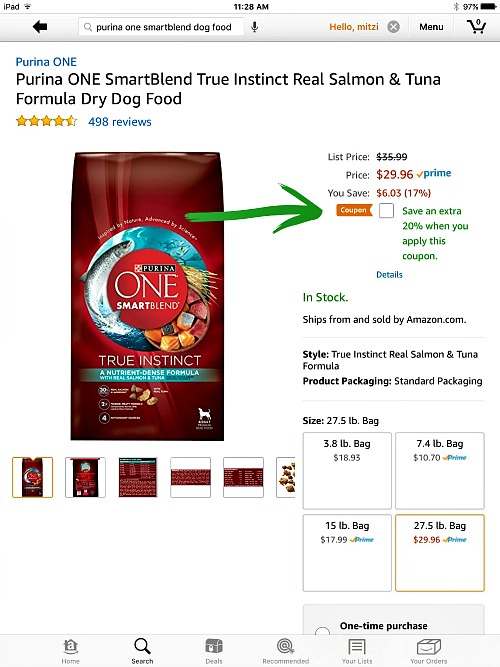 If you've never used your cell phone or a mobile device to shop on Amazon, it's just as easy as shopping from your laptop or any computer. Just download the Amazon app for free from your app store, and then search and purchase just as you would at any other online store.
Less Paying. More Playing.
The Amazon mobile app is super convenient and saves so much time when shopping. With such a wide variety of products, you can easily find what you need to purchase then get back to doing the things you enjoy, like spending more time with your pets.
Have a cat? Check out Amazon's Subscribe & Save HERE for your Purina cat products, too!
Want to check out these fabulous Purina products? Hop over to Amazon and save!
Save $5 off your first purchase using Amazon's Subscribe & Save: