This post may contain affiliate links. Please see my full disclosure policy for details.
This shop is part of a social shopper marketing insight campaign with Weave Made Media® and Klondike, but all my opinions are my own. #weavemade #KandyBar http://my-disclosur.es/RgFrEH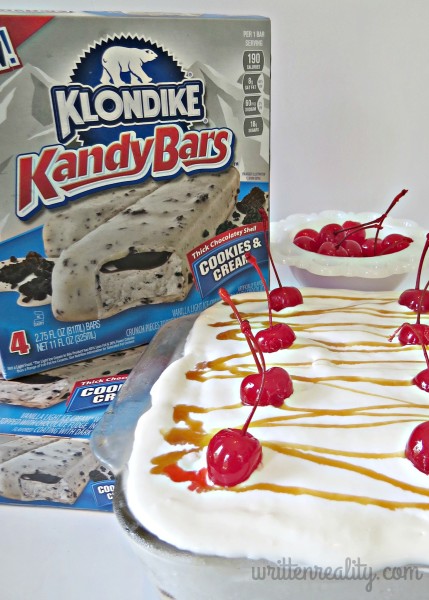 So this past weekend I discovered a delicious treat that's perfect for summer.
It's the new KandyBar collection from Klondike, and it comes in 3 varieties: Caramel & Peanuts, Cookies & Cream, and Fudge Crunch. I'm serious. Check it out for yourself:
What would you do for a Klondike [Kandy Bar]?
Remember the old "What Would You Do for a Klondike Bar?" commercials? As soon as I saw the new Klondike Kandy Bars, I remembered the old jingle. Only this time I was thinking, What could I do with a Klondike Kandy Bar?
So after finally deciding which one to try first–my husband and I stood in the freezer section for a while discussing our choices–I chose the Cookies & Cream. I was coaxed by my Cookies & Cream fan counterpart.
These things are fabulous–taking cookies & cream to a whole new place!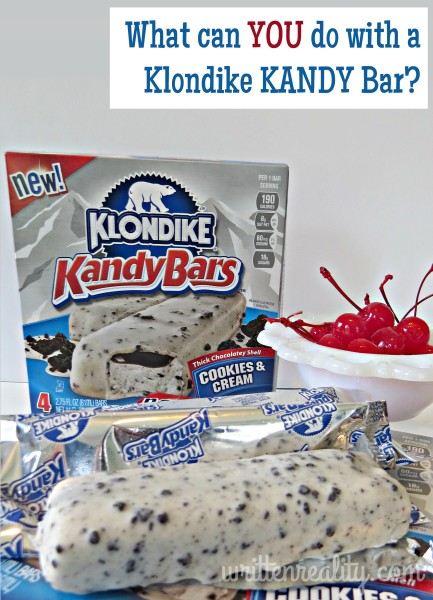 It's one of those treats you hide from the kids and save for yourself– not saying that's what I did–you know what I'm talking about. 🙂
Even better, they're the perfect ingredient for a BRAND NEW RECIPE I created. . .
Here's What I Can Do With a Klondike [Kandy Bar]
I have this go-to summer recipe that I usually take to picnics or serve when friends stop by. It's one of those easy NO BAKE wonders, so I try to keep the ingredients on hand, just in case.
This time, I added a little something special. The Cookies & Cream Klondike KandyBars created a tasty crunch in the center of my new dessert that everyone loved, and I am super happy that I have a new go-to favorite dessert.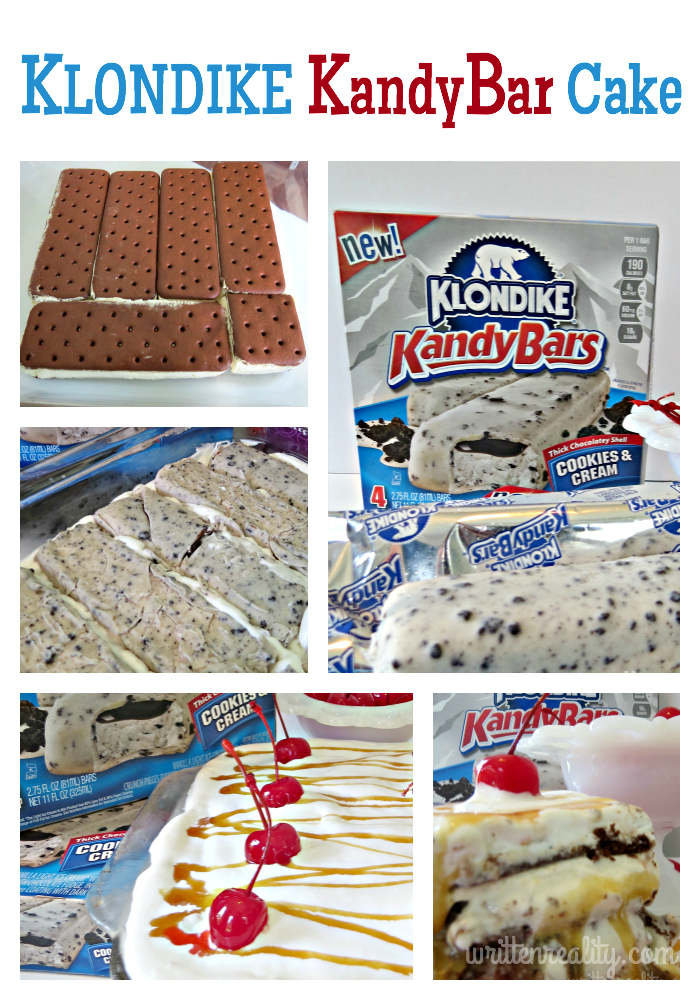 Klondike KandyBar Cake Recipe
The Klondike KandyBar Cake requires just a few frozen items and can easily be varied by using any of the new flavors. Check out my brand new recipe at the bottom of this post I created using the Cookies & Cream.
What can YOU do with a Klondike Kandy Bar?
These frozen treats are perfect straight from the freezer or out of your cooler when you're by the pool or at the lake. Plus, it's a great opportunity to cook up your own creation and like me, discover a new go-to favorite for summertime potlucks and parties.
Just make sure to store them behind the frozen carrots and peas. Otherwise, they won't last long enough to try in your newest recipe creation.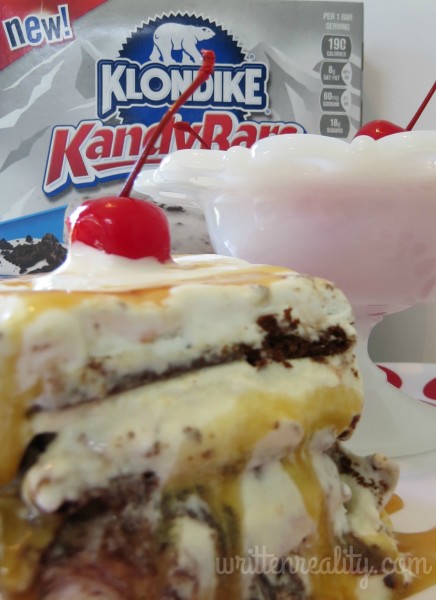 Other recipes you may enjoy: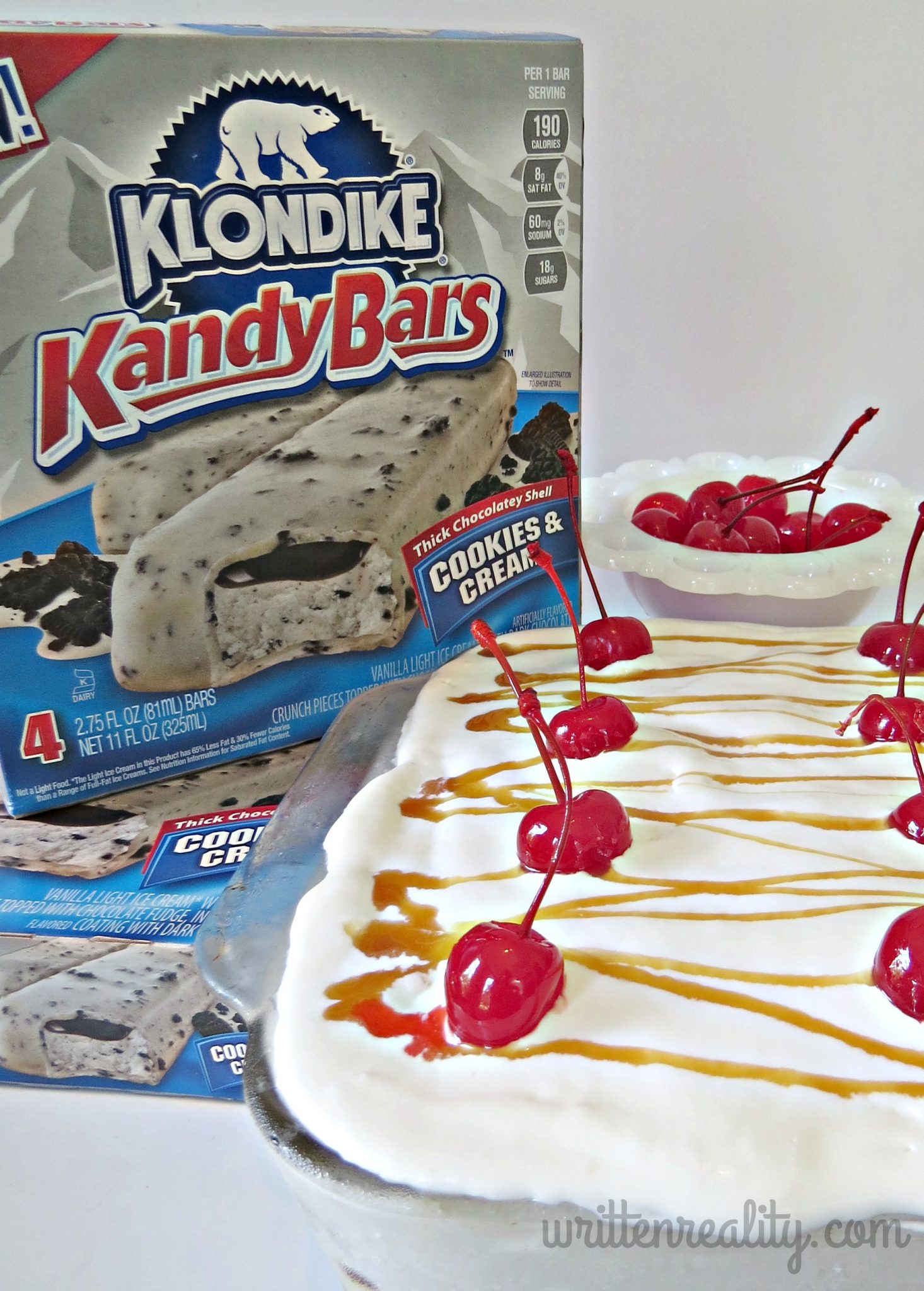 Klondike Kandy Bar Cake
2014-07-13 20:08:11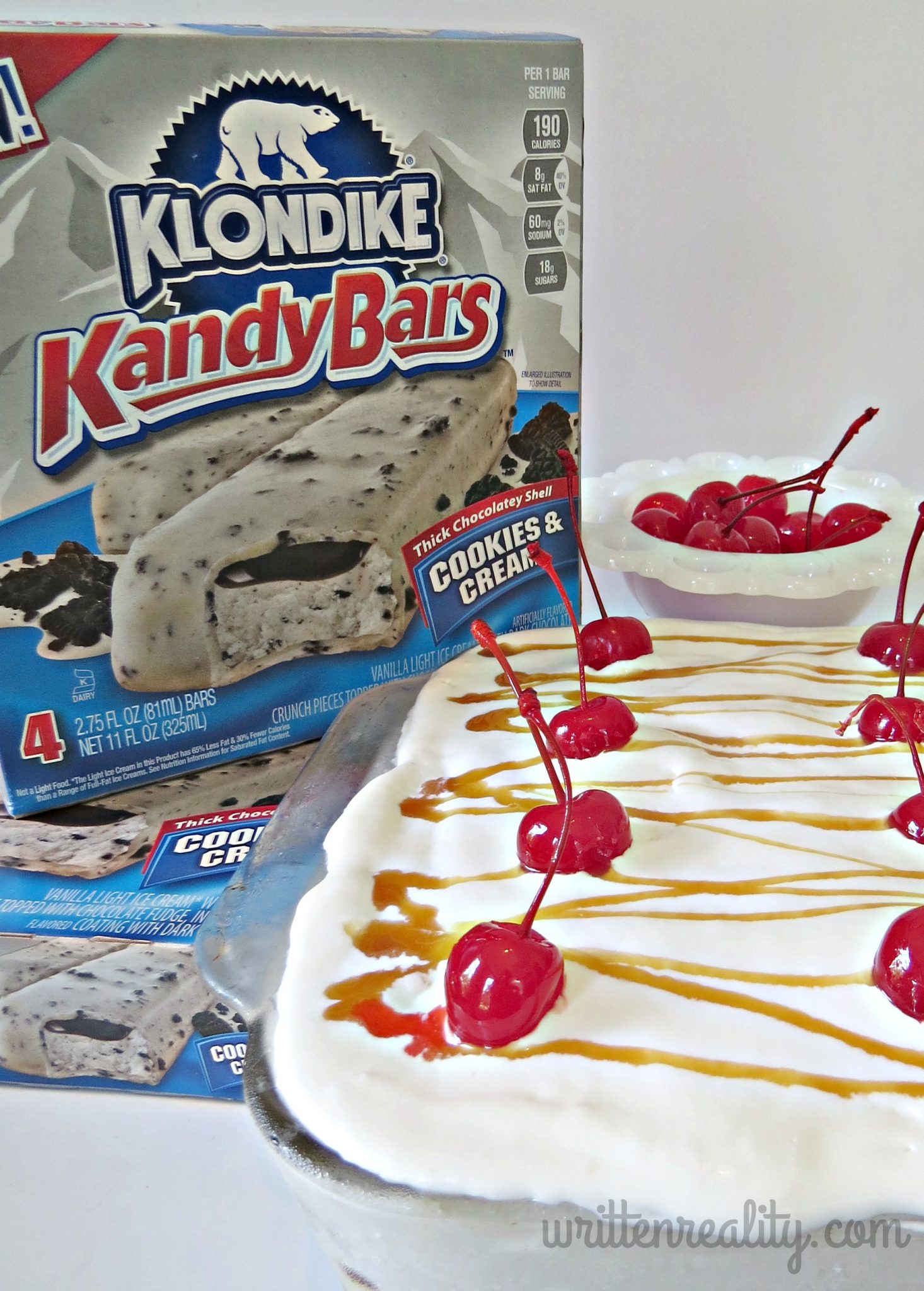 Ingredients
1 box of ice cream sandwiches (12)
5 Klondike Cookies & Cream Kandy Bars
1 8 oz. tub of whipped topping
1 jar of cherries
caramel sauce
Instructions
Cover the bottom of an 8 x 8 baking dish with 6 ice cream sandwiches.
Top with a layer of whipped topping.
Slice 5 Cookies & Cream KandyBars down the middle, then gently press into the whipped topping to create another layer.
Repeat with another layer of ice cream sandwiches and whipped topping.
Cover and freeze.
When ready to serve, top with caramel sauce and cherries--enjoy!
Written Reality https://writtenreality.com/