This post may contain affiliate links. Please see my full disclosure policy for details.
Check out this week's mom style fashion find featuring a pop of pink with a striped skirt we're loving, too. It's Fashion Friday sharing the mom style we love.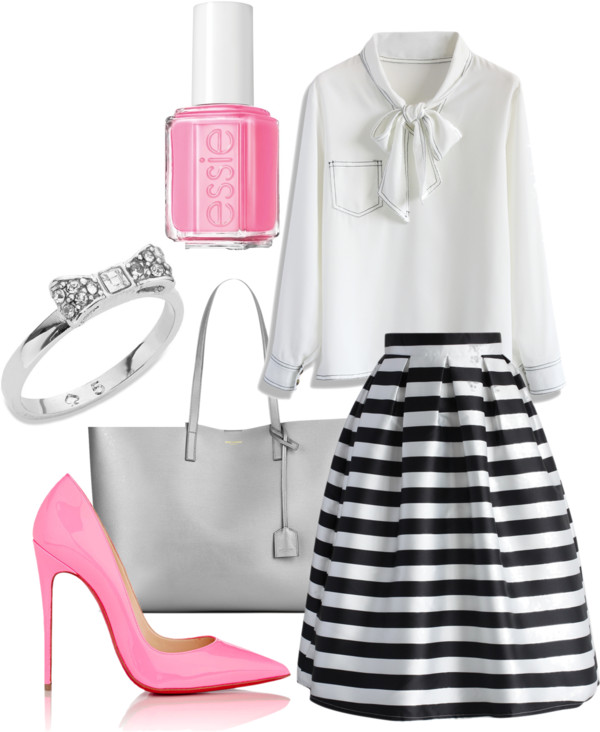 I love striped everything and so I am absolutely in love with this classy striped skirt that goes well with just about anything I'm sure you already have in your closet. You can easily throw on a blouse in any color or even a t-shirt.
With this beautiful white chiffon blouse and just a touch of bling, this striped skirt creates one beautiful ensemble. But when you add the pop of pink with these super cute pumps, you take the outfit to a whole new place. And adding a little pink polish to your nails would be a fun little addition, too.
Here's where to find these mom style fashion favorites:
Mom Style Fashion featuring Coral Casual
Stripes Full A-Line Midi Skirt
Christian Louboutin Pink Patent So Kate Pumps
Large Shopping Saint Laurent Tote Bag
It's fun to play around with stripes and other contrasting patterns like polka dots and chevron to create beautiful outfits. You can keep it super simple by adding just one pop of color as a focal point, or just combine with a crisp clean white shirt–that's always a great place to start.
Check out some of these previous mom style fashion finds, too: