This post may contain affiliate links. Please see my full disclosure policy for details.
One of the biggest goals I've set for myself in the Home Decor department is VERSATILITY.
Over the years, I've accumulated a LOT of stuff–and with so many wonderful seasons to celebrate, the seasonal items have become a big problem when trying to find enough space to tuck it all away.
After a huge purge a couple of months ago, I decided to keep my home decor shopping to a minimum and use the items I already have to create versatile pieces that could be used for many celebrations all year long.
Chalkboard Paint is a great solution for seasonal decor!
Check out my DIY Reversible Wreath Post!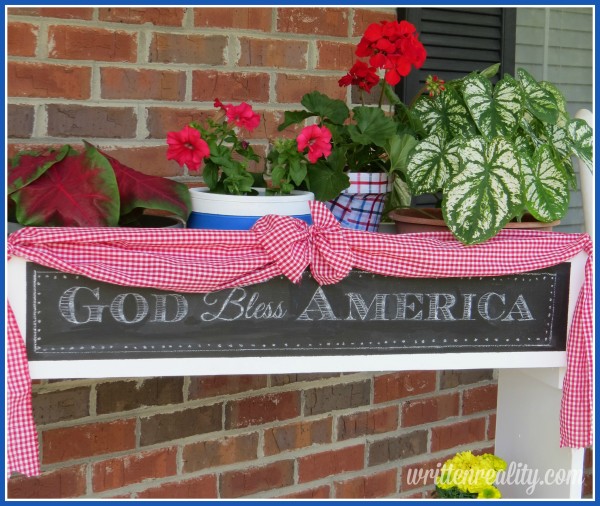 Chalkboard Paint Makes it Easy
For my Patriotic Porch Centerpiece , I wanted to create a space on the front of my dry sink to serve as a versatile sign that could be changed according to the day I wanted to celebrate.
A chalkboard surface made it easy.
I simply taped off a rectangle in the center of the dry sink, painted the surface with Americana Chalkboard Paint
, and lightly rubbed the new surface with a little chalk for priming.
Use What You Have to Save $Money
My problem? I didn't have any chalk pencils!
But for this project, I didn't need anything expensive. I just rummaged through my son's closet and pulled out his box of Crayola Sidewalk Chalk
–and from the great results, you'd never know it!
For this project, I only used a little chalkboard paint and sidewalk chalk!
So here's the secret–
Perfect Lettering with Chalkboard Paint
It's so easy to accomplish perfect lettering when using chalk. So don't go out and buy some expensive chalk pen for this project.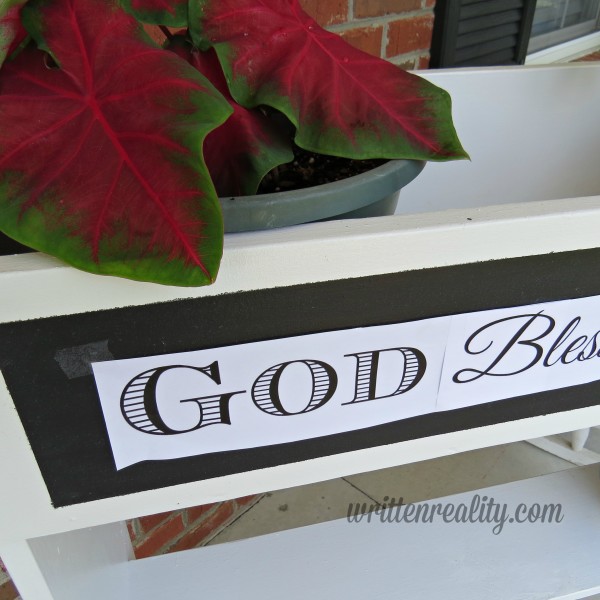 #1 Print out your message using fun FREE fonts from your computer.
#2 On the back of the printed letters, rub a coat of chalk.
#3 Tape the lettering onto the chalkboard – (I kind of eye this. I mean it's chalk. It can be removed).
#4 Trace over every letter with a pencil.
#5 Carefully remove the paper.
#6 Use a Q-tip dipped in water to wipe away any mistakes.
Follow these simple steps and your Chalkboard Lettering will be perfect every time!
[Tweet "Perfect Lettering with Chalkboard Paint is so easy!"]
Don't forget to check out these projects:
Do Your Flowepots Need a DO OVER?
For more DIY ideas, easy recipes, and other fabulous finds, follow me on Pinterest, too! Mitzi@WrittenReality