This post may contain affiliate links. Please see my full disclosure policy for details.
Free Printables Get Organized : Need help getting organized this year? Here are 25 awesome free printables organizing your life the whole year through.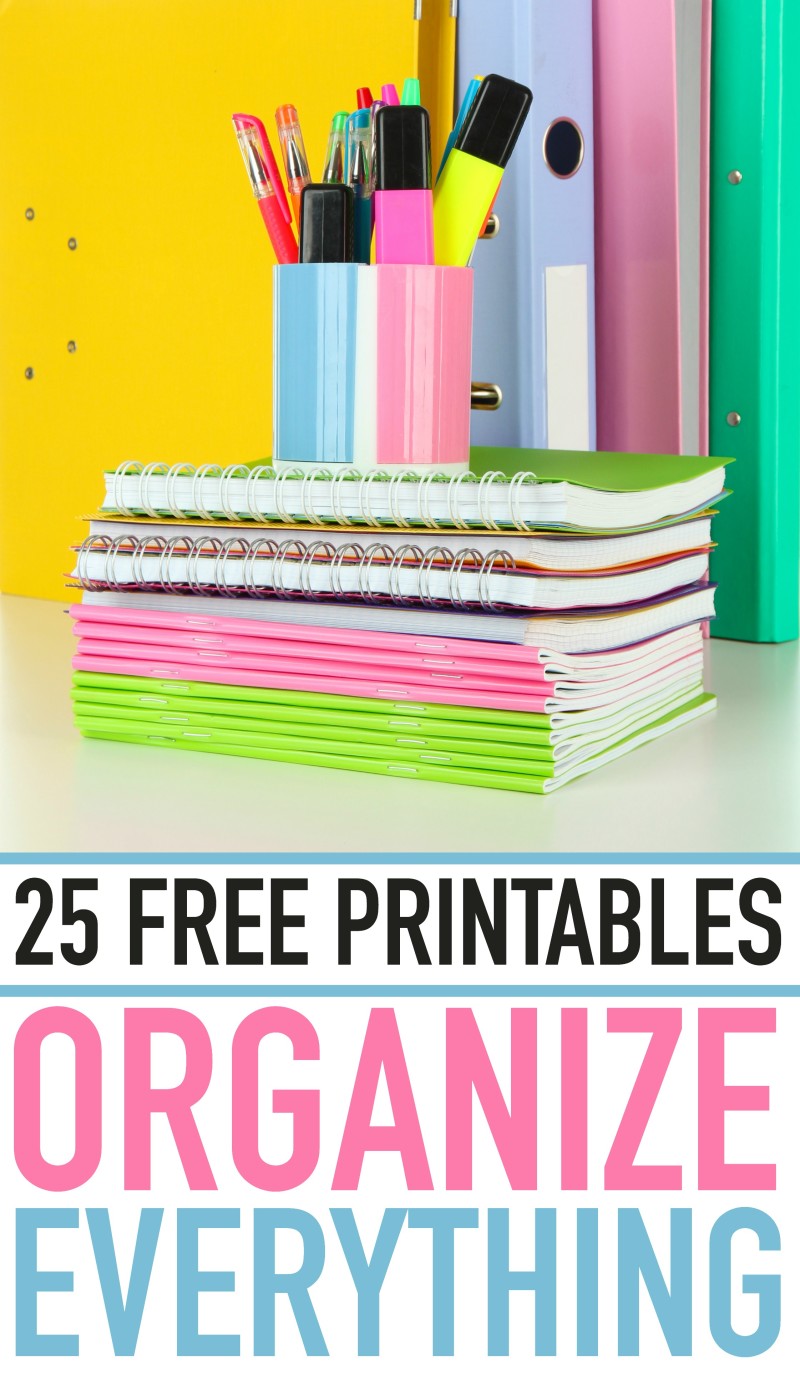 I love all tools for organizing everything. From fun storage containers to sticky notes, I love daily planners, calendars, and making lists to get things done. That's why printable organizational tools are fabulous. There are labels to help us clear the clutter and daily checklists to keep us sane.
This year, let's get organized. Over the next few weeks, let's roll up our sleeves and get busy around the house doing whatever it takes to make our home a happy place we all want to gather. I think these printables to organize your life are great tools to get us started. They'll help kickstart us in the right direction to form habits of keeping things tidy and organized in our homes.
So I've rounded up 25 of the best free printables organizing everything and, even things you may have forgotten.
>>Don't Miss Our BEST PLANNERS for 2018<<
25 Free Printables Get Organized
For the Budget
Need extra help organizing your family budget this year? Here are a few fabulous printables to do just that. They're perfect for setting financial goals and reaching them to help you save money and live debt free.
1. Free Printable Budget Binder
4. Printable Budget Cash Envelopes
Handy for Housekeeping
I love daily and weekly house cleaning checklists. They help keep me on a schedule so that daily chores don't become overwhelming. Here are a few helpful ones for daily housekeeping and even a couple of printables to help you deep clean your space.
>>Refrigerator Storage Solutions to Keep You Organized<<
6. Daily House Cleaning Checklist
9. House Cleaning Challenge Checklist
Check out these 25 Printables to Organize Your Life! Click To Tweet
Labels for Everything
Who doesn't love labels? They're great for clutter control. By adding labels to your storage bins, it's easy to keep your shelves and closets nicely organized. Labels are helpful reminders that every item in our home should have its own designated space.
>>Save TONS OF SPACE with this DVD Storage System!<<
11. Bathroom Closet Organization Labels
12. Labels for Storage Bins, Bags, and Baskets
13. Pantry Labels to Edit and Print
14. Herbs and Spices Jar Labels
15. Freezer Labels to Edit and Print
16. Toy Bin Labels
>>The Surprising TRUTH About the Popular KONMARI Method<<
For the Cook
Need help in the kitchen? I'm amazed at how much more organized I feel when my kitchen's in working order. By keeping a weekly meal planner and an ongoing grocery list, I save lots of time in the kitchen and save money, too.
17. Recipe Cards
19. Grocery List
For the Daily
Here are just a few other helpful printables for those day-to-day activities. These printables would be great to keep in a binder or on a clipboard when you're on the go.
>>Simple Storage Ideas to Organize Your Kitchen Right NOW<<
21. 2018 Calendar
24. Printable Chore Chart for Kids
Other Topics You May Enjoy