This post may contain affiliate links. Please see my full disclosure policy for details.
Hi everyone. It's Sheila from Brain Power Boy. I'm visiting this month with a list of record breaker books. Helping boys find great books to read is one of the goals of our site and I know it is important to Mitzi as well. So today I am pulled together one of my best books for boys lists for her site.
One really fun way to learn new things is to look up information on what records have been set and/or broken. Did you know that one of the biggest elephant ears was 6 ½ feet X 8 ½ feet or that the fastest elevator travels at 37.7 miles per hour?
These books have very interesting tidbits but the very best things about record books is that they get boys talking about what they find in them, they get them doing some research, and best of all they get them reading.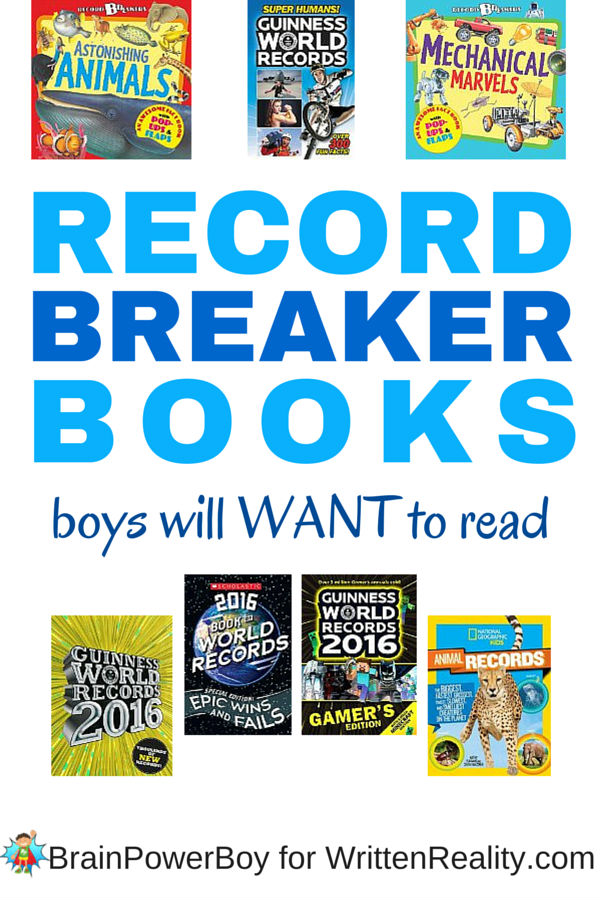 This post may contain affiliate links which means we may receive a small commission, at no cost to you, if you make a purchase through a link. All opinions are our own and we share things we think would be of interest to boys.
Record Breaker Books
Mechanical Marvels
is a record breaker book all about machines. The images are highly engaging and there are some lift-the-flaps and pop-ups as well. The book has little blurbs of information on a wide variety of topics.
From the same publisher comes Astonishing Animals
which is, of course, all about animals. This one also has lift-the-flaps and pop-ups. There are some unusual (and weird) bits in here that boys will really go for.
Over 300 pages of interesting records pack the new Scholastic Book of World Records
. It is updated this year with more pictures which makes it a better choice than last year. From the 3DS to a balloon dog this book has a lot of fun facts. I like it a bit better than the next selection.
The standard record breaker book is the Guinness World Records
. The 2016 edition is updated and has more pictures. I guess publishers are finally realizing how visual many of their readers are. I have found some of the content in this yearly book series to be creepy, bizarre and disgusting. However, much of it is very interesting and I know a lot of boys spend a good amount of time reading them. New topics include: waterfalls, ballooning, apps, lightening, manga, pirates, drones and more.
If you have a boy who is way into video games this is the pick for him. He will learn a lot and really enjoy Guinness World Records 2016 Gamer's Edition
. Keep in mind that there are all types of video games listed here including some that are graphic and/or violent. They don't go into detail about those games, but they are listed. In addition to records, there are tips on play, as well as interviews with players.
This one is for your boys who have to be on the move. Those boys who are very physical and like to play hard. Guinness World Records: Super Humans!
. Think of the people who pull a lot of weight (like a plane!), swallowing swords, or those who do feats that you wouldn't think a human could do and you will get the idea of this book.
This book might win a record for the longest title! However, National Geographic Kids Animal Records: The Biggest, Fastest, Weirdest, Tiniest, Slowest, and Deadliest Creatures on the Planet
is a great book for kids who love animals. It is well done and with a very nice visual feel – this book is a winner.
For more book lists see:
If your boy is into records be sure to check out our lists books post as well. The books are similar in style to the record breaker books but they include top 10 lists and facts. High Interest List Books for Boys.
Mitzi's 20 Science Fiction Books for Young Readers
My 9 Thrilling Book Series for Teen Boys That They Won't Be Able to Put Down
and Mitzi's 10 Books to Keep Boys Reading
See you next month,
Sheila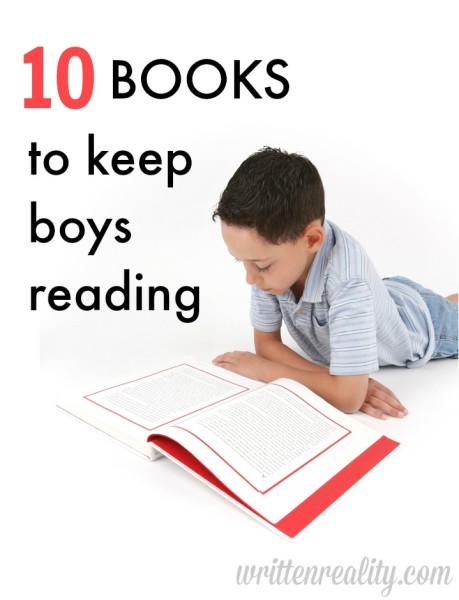 Latest posts by Sheila Rogers
(see all)