This post may contain affiliate links. Please see my full disclosure policy for details.
Hi everyone. It's Sheila from Brain Power Boy. I'm back this month with a fun collection of projects that fit in with our activities for boys ideas.
Getting boys crafting can sometimes be a challenge. If you have a boy who just isn't that into it, here are a few fun things he might enjoy making. Give it a try – you never know. If you have a crafter on your hands, he will love these.
Doing a bit of DIY with school supplies is satisfying because in the end they have something that they will actually use. Plus they can make these things to fit their own personal style just by getting a bit creative and using colors or tape that they really like.
Spend some time together deciding which projects he would like to make and gather up the supplies. It's time for DIY Back to School Crafts for Boys.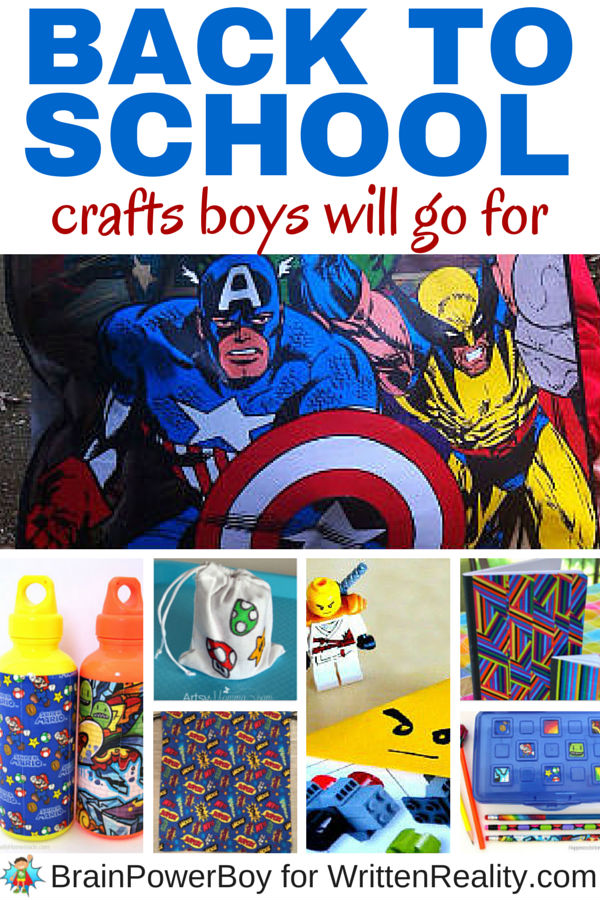 These LEGO Bookmarks are easy to make. We made them in my boy's book club and they were a big hit.
I think boys would like making these bags. They can decorate them however they want. Think Mario, Star Wars, Superheroes etc. Then use them for snacks as suggested in the post or use them for keeping little things together in a backpack.
Grab some composition notebooks and some tape and you have a super covered notebook project that is quick and easy. Let your boy pick out his favorite tape and you are all set.
Does your boy bring a water bottle to school? You won't have to worry about it getting mixed up with someone else's if he creates a neat design to personalize his bottle.
If you have a boy who likes to sew, this one will be right up his alley. He can make this easy to sew Drawstring Sports Bag. If he is just starting out with sewing have him pick out the fabric and do the straight lines.
If you prefer to go the no-sew route you really need to check out this very cool superhero bag.
What a great idea this is. Mitzi has a Chalkboard Journal here on her site. Using chalkboard paint and a bit of neat tape you can make one of your own.
Have you been tape shopping lately? If not, you will want to go have a look. I was at the fabric store recently and couldn't believe the wonderful selection. Grab some tape, pencils and pencil boxes for this project. It is a fun one!
Whether your boy is heading back to school or homeschools, he will want cool school supplies. These all fit the bill! Have fun making them together.
See you next month,
Sheila
See also:
Printable LEGO Fact Lunch Box Notes if you want some fun lunch box notes boys will love.
A few more personalized school supplies to make.
See our NOT Back to School Gear Guide Tech for some awesome tech gear that boys will really want to try.
Don't miss: Build a Back to School Wardrobe for Less! for some very good shopping tips to save you money.
Latest posts by Sheila Rogers
(see all)