This post may contain affiliate links. Please see my full disclosure policy for details.
Board books make awesome baby shower gift ideas. Check out this roundup of the best board books for babies every new mom will love.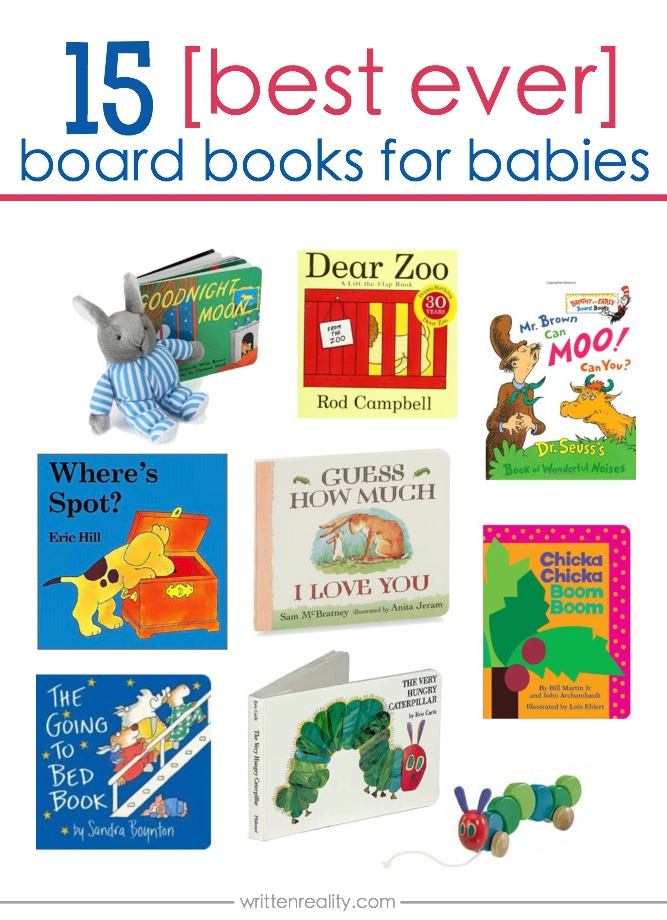 As a mom and a former elementary school teacher, I often hear other parents share that their kids hate reading. Just last week, I read a few comments on Facebook where several moms were discouraged by their children's lack of interest in reading anything and, sadly, how most of the problem stemmed from how reading was being taught in their schools.
Thankfully, I fell in love with reading before school ever began for me. After weekly visits from our community's bookmobile the summer before I started kindergarten, I discovered that books held endless possibilities, and though my teachers taught reading through worksheets and written exercises, I was already so in love with reading that no amount of countless workbook pages could change my mind.
When I began teaching, I filled my own classroom with tons of picture books and novels. I read aloud my favorites every morning and celebrated all the wonderful authors I loved. Though most of my students fell under the reading spell in our classroom, there were a few exceptions. I always had one or two students who struggled with reading. And, though they probably read more books that year than all the others combined, for some reason they never fell in love with reading like I had so many years ago.
Board Books for Babies
I think the true love for reading happens way early and certainly long before a school day routine where kids must learn somewhere between testing pressures and time constraints–believe me, I was a teacher for a long time, so I know.
That's why board books were the very first thing I bought for my children. I kept them in baskets on the floor of their rooms with other toys and play things. I made sure to read to them often and I tried to set a happy tone around the whole idea of reading time, so that they would one day feel those same comforts when they chose other books to read on their own.
Baby Shower Gift Ideas
For that reason, I always give board books at baby showers. They make perfect gifts because they are fun and inexpensive. Plus, they encourage the love of reading from the very beginning. In this day and age of too much TV and video games, why not give a child something they can treasure that will also provide an educational head start?
Best Ever Board Books
So here's my all-time favorite list of board books for babies that are absolutely perfect if you're looking for baby shower gift ideas, too.
This is my all-time favorite board book. First of all, I'm an animal lover and this one is set at a zoo. The pictures are fabulous and the storyline is super fun, too.
2. Goodnight Moon by Margaret Wise Brown and Clement Hurd
If you are looking for baby shower gift ideas, this is always my top choice. I think every kid needs a copy of Goodnight Moon from the start.
3. Animals (Baby Touch and Feel) by DK Publishing
Touch and feel board books like this one are great for hands on learning. The kids are using all learning modalities as you read aloud while they touch and feel the textures across the page.
4. Mr. Brown Can Moo, Can You : Dr. Seuss's Book of Wonderful Noises by Dr. Seuss
Who doesn't love Dr. Seuss? He's the perfect guy to remind us all that reading can be so much fun.
5. The Very Hungry Caterpillar by Eric Carle
This one is another classic by one of the most beloved picture book authors and illustrators. I love the colorful illustrations. It's another predictable book, so it's sequencing and pattern makes it a great choice for learning to read.
6. Chicka Chicka Boom Boom by Bill Martin Jr. and John Archambault
Here's a perfect way to learn the alphabet! I still sing this one from time to time on my own.
7. First 100 Words by Roger Priddy
I love this one for its colorful photographs accompanying 100 simple first words.
10. The Going-To-Bed Book by Sandra Boynton
I have a previous post where I shared 15 Bedtime Stories Every Kid Should Know. This one is a the perfect place to start.
11. Where Is Baby's Belly Button? A Lift-the-Flap Book by Karen Katz
This book is an adorable hide-and-seek adventure that babies love.
12. Dear Zoo: A Lift-the-Flap Book by Rod Campbell
I loved this one so much, I kept it for myself. Again, maybe it's because I love animals and zoo books, but it's a fun hands-on choice, too.
13. Brown Bear, Brown Bear, What Do You See? by Bill Martin Jr. and Eric Carle
Predictable books like this one are perfect for teaching reading. It's a great way to help young children build confidence in their reading as they begin recognizing the word formations through simple patterns and clues triggered by the illustrations.
This was the first book my son ever read and it was the first thing he shared with his new baby brother the day we brought him home.
14. Guess How Much I Love You by Sam McBratney and Anita Jeram
This one has been an all-time favorite for moms everywhere. It's a great read aloud to share with baby.
This was the very first book I ever bought for my eldest son. It's based on the familiar song by the same name and we had a blast singing while pointing to each letter as we sang through the book over and over again.
What about you?
What's your favorite board book for babies? Share your ideas with us!
Other Topics You May Enjoy