This post may contain affiliate links. Please see my full disclosure policy for details.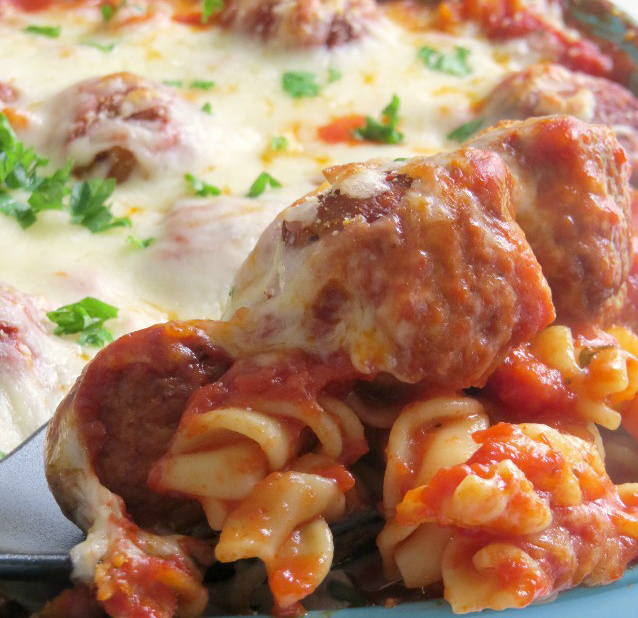 Is there anyone else who is always in the mood for a comfort food casserole?
Well if you're like us, you are going to love this one. It's filled with meatballs, pasta, and cheese. Yep. This is a great one any day of the week, but especially on busy weeknights because it's just so easy to toss together and bake.
This cheesy meatball casserole dish is a quick and easy recipe that's filled with frozen meatballs and loads of cheese. With only a few ingredients, just toss in a dish, bake, and serve. It's delicious!
Cheesy Meatball Casserole Recipe
If you need an idea for a quick and easy recipe to serve on busy weeknights, my cheesy meatball casserole is one of our favorites. There is no prepping ahead of time at all for this one, either.
You add the uncooked pasta and frozen meatballs to a baking dish, and, with just a few more ingredients, simply toss it in the oven. It's really that super easy and quick.
And since I use frozen meatballs and spaghetti sauce from a jar, well, that is like the quickest toss in the oven you'll find. I mean, seriously, I open up the box of pasta and bag of frozen meatballs and throw it in the pan.
But it doesn't taste at all like some frozen dinner. It really tastes delicious. Just make sure you choose frozen meatballs and the spaghetti sauce that your family enjoys the best. And you can choose whatever type of pasta you like, too.
The part that makes this one so yummy is really all the extras. The pasta sauce and that warm delicious melted cheese.
TRY OUR CHEESY BAKED SPAGHETTI RECIPE, TOO!
I like the spiral pasta with this one. It just seems to make for a better bite with this one. I think the spiral type just fills up the pan more, too, to create more of a casserole type meal. But that's just my preference. I would add pretty much any kind of pasta to this one in a pinch.
HOW TO MAKE A CASSEROLE OUT OF ANYTHING
I like to serve this with a garlic bread or a side salad, but it is hearty enough to be served right on its own.
If you enjoy this recipe, you may want to keep these ingredients on hand. That way, you can add it to your go-to recipes on those busy nights when you don't have much time to cook or you have no idea what to make. This can help avoid the drive-thru or spending over on takeout. That's why I usually buy a couple of large bags of our favorite frozen meatballs when they go on sale at my local grocery store and I always keep a variety of pastas on hand, too, in the pantry.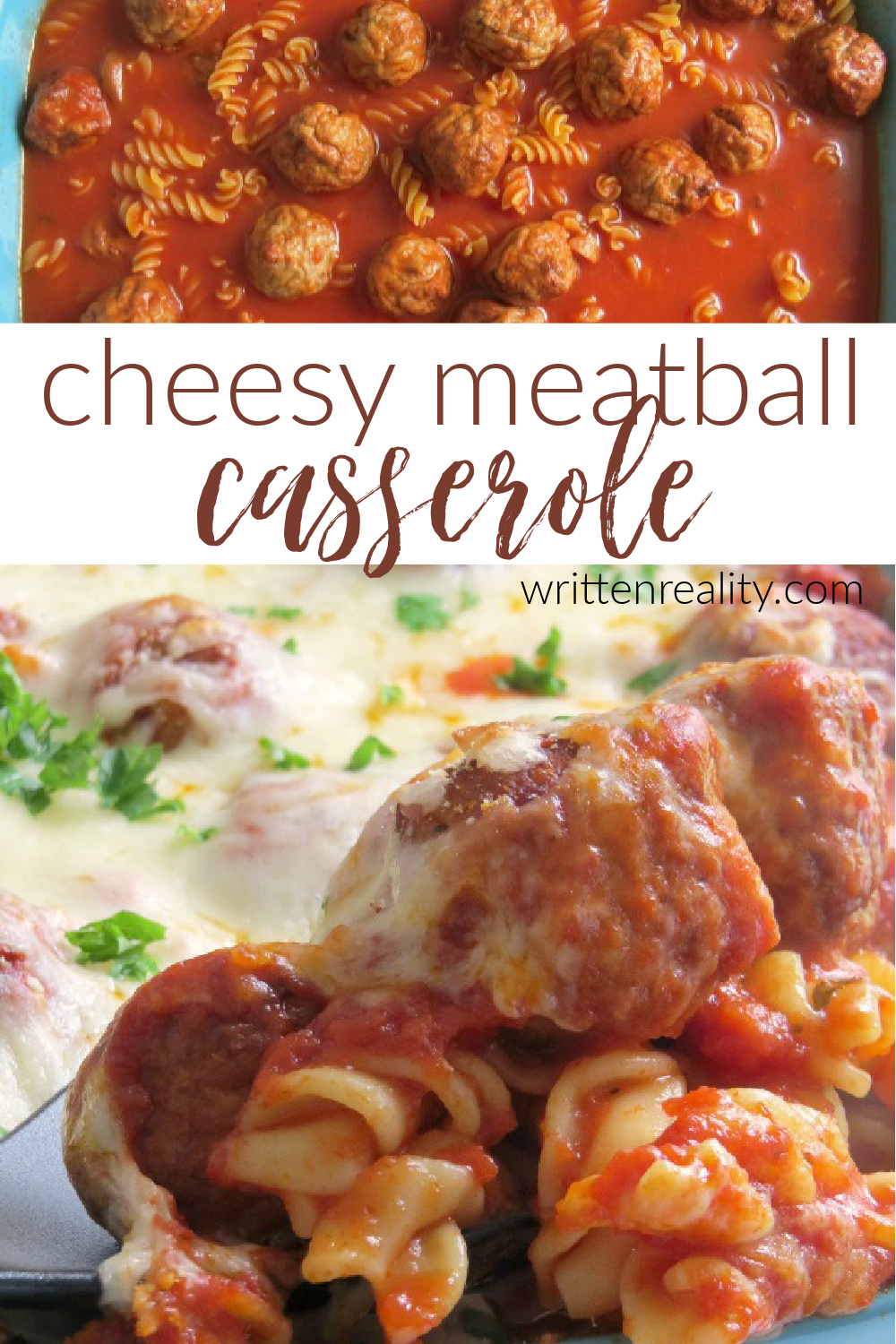 Cheesy Meatball Casserole Recipe
Ingredients
1 (16 oz.) box of uncooked spiral pasta
1 bag of Homestyle Meatballs, frozen
1 (25 oz.) jar spaghetti sauce (I use a sauce with extra mushrooms)
2 cups of shredded mozzarella cheese
1/2 cup of grated parmesan cheese
optional: parsley for garnish
Directions
Preheat the oven to 425 degrees.
Place the pasta and meatballs in a large baking dish.
In a separate bowl, blend the sauce with 3 cups of water and pour over the pasta and meatballs.
Cover with aluminum foil, making sure to seal tightly and bake for 45 minutes.
Uncover and stir the pasta to make sure it's cooked through. The pasta may need a few more minutes covered to bake until done.
Once the pasta is al dente, add the mozzarella and sprinkle with parmesan cheese.
Return to the oven and bake, uncovered, for 5 or 10 minutes until the cheese is melted.
Garnish with parsley and serve. Enjoy!
Other Recipes you May Enjoy
Easy Baked Burrito Casserole -Everyone needs to try this Tex Mex favorite! It's all the flavors of Taco Tuesday layered in one delicious pan.
Easy Biscuit Chicken Pot Pie – Here's a chicken pot pie upgrade!
Ham Hash Brown Casserole– This is my favorite to serve on cold busy weeknights. It is hearty and a comfort food classic.
Tex Mex Casserole– This casserole is a great one full of flavor and ready to serve in 30 minutes or less!