This post may contain affiliate links. Please see my full disclosure policy for details.
This is a sponsored post written by me on behalf of Cooked Perfect® Meatballs for IZEA. All opinions are 100% mine.
Here's a quick and easy casserole recipe that's filled with meatballs and loads of cheese. With only a few ingredients, just toss in a dish, bake, and serve. It's delicious!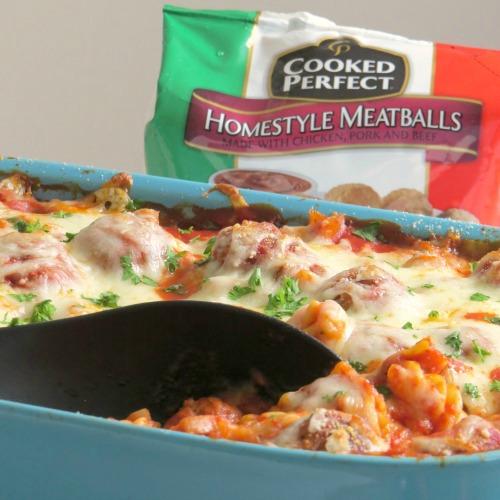 Summers are busy at our house. Although we sleep later and spend more time at home doing things as a family, summers, for us, are filled with cookouts, kayaking, and any activity that gives us an excuse to head outdoors.
As a busy mom, I want to enjoy our summer fun like everyone else. So I like to choose quick and easy recipes that I can throw together easily and bake in one pan. That way I'm able to spend less time in the kitchen and more time outside with my family and friends.
If you need an idea for a quick and easy recipe to serve this summer, my cheesy meatball casserole is one of our favorites. There is no presswork for this one, either. You add the uncooked pasta and frozen meatballs to a baking dish, and, with just a few more ingredients, simply toss it in the oven. It's really that super easy and quick.
The secret? Great tasting meatballs.
That's why I always keep a bag of Cooked Perfect® Meatballs in the freezer for this one. I love these meatballs! Since they're flame broiled, they taste better than any other frozen meatballs I've tasted. I use them to not only make my cheesy meatball casserole, but also for sub sandwiches and meatballs as appetizers for parties and family fun night, too.
Made with select meats, cheeses, and savory herbs, you can really tell a difference in flavor. I make my cheesy meatball casserole using the homestyle flavor, but there are several varieties to suit other recipes. I love the Cooked Perfect Italian Style meatballs for sub sandwiches and the turkey meatballs are fabulous, too.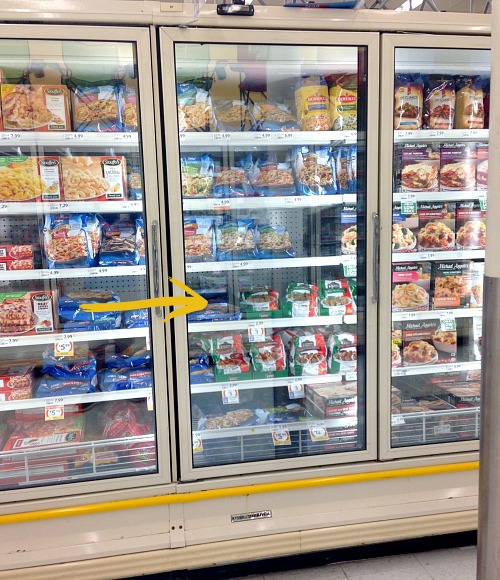 You can find Cooked Perfect Meatballs in the freezer section at most grocery stores. They're great to pick up and keep in your freezer for all sorts of quick and easy recipes, so you'll want to grab a couple of bags this summer to keep on hand.
You can find more meatball recipes and a Cooked Perfect coupon here: meatball recipes

Cheesy Meatball Casserole Recipe
Ingredients
1 (16 oz.) box of uncooked spiral pasta
1 bag of Cooked Perfect Homestyle Meatballs, frozen
1 (25 oz.) jar spaghetti sauce (I use a sauce with extra mushrooms)
2 cups of shredded mozzarella cheese
1/2 cup of grated parmesan cheese
optional: parsley for garnish
Directions
Preheat the oven to 425 degrees.
Place the pasta and meatballs in a large baking dish.
In a separate bowl, blend the sauce with 3 cups of water and pour over the pasta and meatballs.
Cover with aluminum foil, making sure to seal tightly and bake for 45 minutes.
Uncover and stir the pasta to make sure it's cooked through. The pasta may need a few more minutes covered to bake until done.
Once the pasta is al dente, add the mozzarella and sprinkle with parmesan cheese.
Return to the oven and bake, uncovered, for 5 or 10 minutes until the cheese is melted.
Garnish with parsley and serve. Enjoy!