This post may contain affiliate links. Please see my full disclosure policy for details.
Need Christmas games and ideas for holiday family fun? We've got holiday dinner games you'll love! Free Christmas dinner game printable included.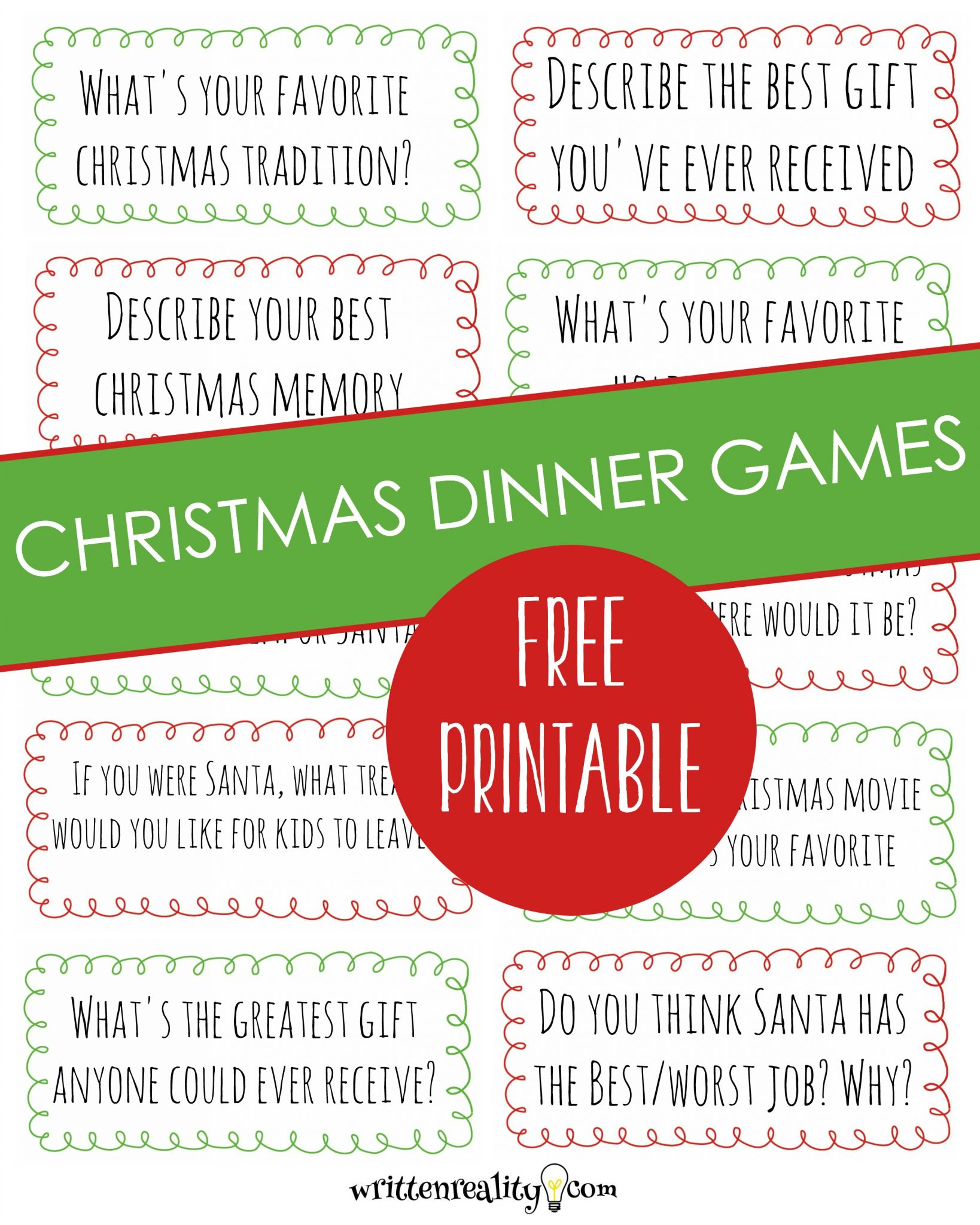 Through the years, my husband and I have started several Christmas traditions with our boys to make the holidays extra special. During December, we take turns choosing a favorite Christmas movie for family fun nights, or we'll pile in the car and ride around town voting for the best–or tackiest–Christmas lights display. None of our little outings or activities require much money, if any at all. They're just fun and simple ways to celebrate Christmas together building memories and having a great time.
One of my favorite Christmas traditions, however, is our Christmas dinner games. If you're already a Written Reality reader, then you know how much I love trivia questions. And you also know just how much I use dinner games as family entertainment. During the holidays, our dinner games become all Christmas related. Every topic we use for game play is a Christmas one, and I even picked up a box of Christmas trivia questions to add to the holiday fun.
Seriously, that little box of Christmas trivia is one of the best things I've ever purchased for my family. During the entire month of December it's on our dining room table. We even take it with us when we go out for dinner on Friday nights, too. That way we can continue our Christmas trivia game all month long.
I bought the game years ago and we've went through every card over and over for years now. You would think by now we'd know all the answers. But there are so many questions that we can't remember them all. And, even if we did, it's so much fun that we'd probably still want to play.
Celebrate With A Free Christmas Dinner Game
That's why I wanted to share a free Christmas dinner games printable. These aren't trivia questions, but they're a great way to get your family talking around the dinner table, and they're perfect to use for extra fun during your Christmas parties and celebrations, too.
Print Your Free Copy of the Christmas Dinner Games Printable
Grab your FREE Christmas Dinner Games Printable! Click To Tweet

Other Topics You May Enjoy