This post may contain affiliate links. Please see my full disclosure policy for details.
Best Easter Basket Fillers : Need some ideas to fill those Easter baskets this year? Check out the best Easter basket ideas that we've found.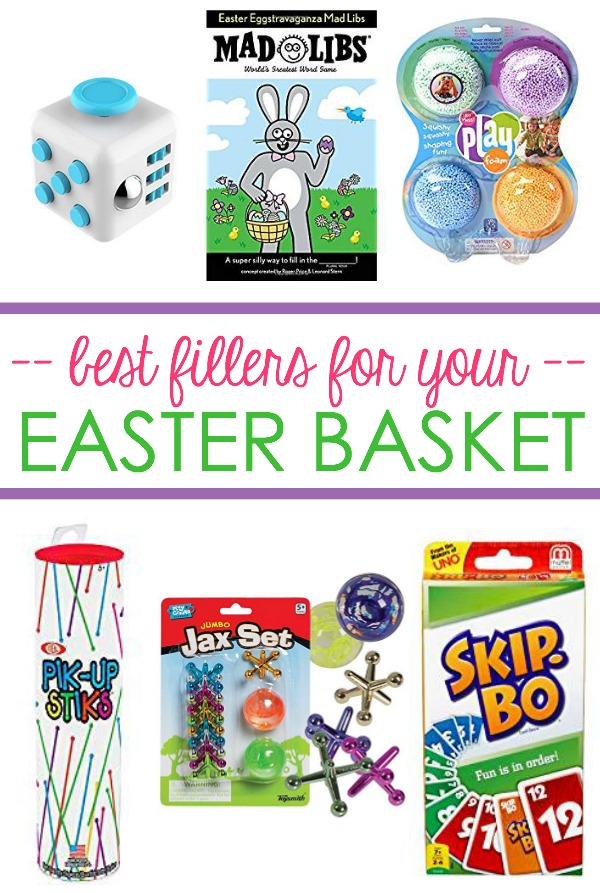 As a mom, I've struggled for a healthy balance between learning activities I choose for my kids and the electronic games and videos they choose for themselves. On my quest for toys and games they'd enjoy, I discovered a few winners that have pleased the both us–games that were fun and entertaining while prompting my kids to think.
Each Easter, I try to find at least one Easter Basket filler that doesn't require batteries, isn't expensive, and is small enough to fit in a typical Easter basket. I think the best Easter basket ideas encourage creativity and gets kids thinking, so I like to include some game or toy that will help with these things, too.
>>Check out our Christmas Gift Guide for more ideas!<<
Best Easter Basket Fillers
Rubik's Cube Game – Every kid needs one of these at some point. It's a great boredom buster idea and keeps kids thinking.

Nerf N-Strike Jolt Blaster -I've given several of these small Nerf guns through the years because it's such a fun one. It's not only a great Easter basket filler, but it's perfect for birthday gifts and Christmas gifts, too.

If your kid loves this one, then be sure to check out our Popular Nerf Accessories, too!
♥ The Fidget Cube – I think we all could use this one to help us focus. It's a small cube designed to keep your fingers busy to relieve stress and anxiety while you work and even when you're thinking through those creative projects, too.

Play-Doh – Who doesn't love Play-Doh? It's a great idea for a family fun night of creative play and the perfect idea for quiet time play, too.
Playfoam – This one also makes a great gift idea for any occasion. It's perfect for sculpting and creating shapes, and even better, it never dries out.

Dominoes
– What about a game of Dominoes? That's always a fun one to keep handy. You can get them packaged in easy to carry along tin containers, too.
Pick Up Sticks – Mama always added things like this to our Easter baskets. It's one of those classic games that many forget, but it's always a fun one to play.
Metal Jacks and Rubber Balls – As a kid, I could easily spend hours playing this one. It's another forgotten classic that's perfect for eye hand coordination, too.
♥ Skip Bo – We play this game all the time. It's one of our favorite card games because it's such an easy one. And, you can decide how long you want the game to last by how many cards you add to each player's deck. It's a super fun one.
Uno Card Game – If you haven't already, make sure to pick up this classic. It's a great one to keep handy for family fun time whenever you have the chance.
>>Check out our Best Card Games for Family Fun Night!<<
Mad Libs – Sometimes we'll pull out our collection of Mad Libs instead of a dinner game while we're eating. One person will record while the rest of us take turns giving the nouns, verbs, etc. Then the recorder will read out our funny result. There's lots of versions to choose from, too!


♥ Choose Your Own Adventure Books – I've mentioned these books before because both of my boys loved them. They are great to get kids reading and since you choose a different path each time you read them, you'll want to read them again and again.

Whodunit Puzzle Books – Here's another one we'll sometimes use instead of our normal dinner games. One of us will read while the others try to solve the mystery. They're really short, so they're perfect for dinner time.
Kids Binoculars Set – Here's a great way to get those kids outside and enjoying nature. Create your own scavenger hunt, maybe take along a bird guide, and get those kids outdoors.
Jesus Calling: 365 Devotions For Kids
– I like to add some sort of devotional or inspirational reading to promote Bible study.

♥ The Armor of God Bible – I added this one to my youngest son's Easter basket a couple of years ago and he loved it. We also have the teen study Bible that's awesome.
Other Topics You May Enjoy