This post may contain affiliate links. Please see my full disclosure policy for details.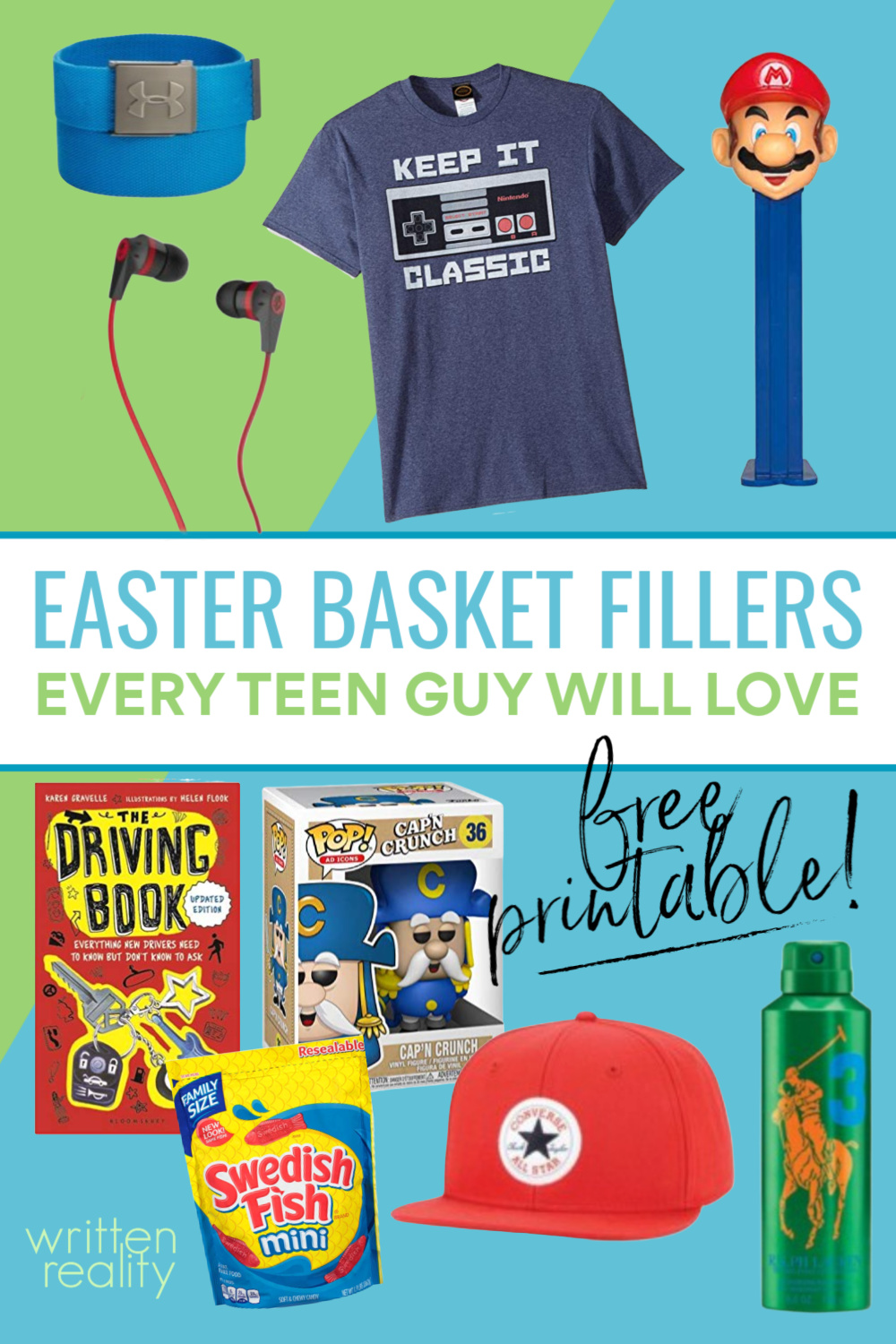 I love the whole 'filling the Easter basket' routine. From Peeps to jump ropes to plastic eggs filled with tiny treats, finding traditional trinkets to fill my boys' baskets was always fun and easily accomplished–until the tweens.
Once my son hit middle school, filling the basket wasn't as easy–or cheap. That's when I decided to look for new ways to fill the basket. I needed items that were still fun and inexpensive, but Easter basket ideas for a tween or teen boy. There are all sorts of quick and easy trinkets for girls-from makeup to hair accessories-so they often seem easier when it comes to the trinkets departments.
Now that I have 2 boys in this age bracket, I've discovered all sorts of fun gadgets and gizmos, too. After several years now of purchasing Easter basket fillers and Christmas stocking stuffers, I have this whole teen guy gift ideas down to a science and can pretty much find fun things at every single store.
Looking for a few Easter basket trinkets for a teen guy who's outgrown Silly Putty, sidewalk chalk, and those cutesy wind-up toys? Check out these Easter basket ideas teen boys will actually enjoy!
Easter Basket Ideas Teen Boys
Easter Basket Ideas Teen Boys: Need ideas for filling your teenager's Easter basket this year? Here are 50+ Easter Basket fillers for a Teen Guy. Awesome Teen Guy Easter Gifts!
Body spray
Hobby Magazine
Vinyl Record
Breath mints
Razor/shave gel
Pack of T-shirts
Chapstick
Boxers
Socks
Gum
Single Packs of Favorite Snack Food
Belt (I love the Under Armor golf belts!)
Flashlight (it's a guy thing)
Pajamas
Video Game

Book

iTunes card
CD
Movie tickets
Flash drive
Cellphone Case
Tablet or iPad Case
Gas Gift card
Car wash set
Car air freshener
Personalized car tag
Nerf gun (yep-it's a guy thing)
Cash
Bookmark
Booklight
Batteries (for all those gadgets)
Notepads
Micron Pens (my boys LOVE these)
Everyday Essentials
My boys (thankfully) like to smell nice, so they enjoy getting scented soaps, body sprays, and all sorts of breath mint varieties, too. That's why I always try to add some sort of everyday essential to their Easter basket.
Summertime Accessories:
Easter is the perfect time to stock up on summer essentials. I always include a pair of flip flops in my boys' Easter baskets. You can find them in all sorts of colors and styles–even for teen guys–and beachwear always comes in bright colors to make a teen guy's Easter basket lots of fun, too.
Entertainment:
There are plenty of fun teen guy Easter gifts in the entertainment department. Who doesn't love receiving movie tickets or an iTunes card? My boys love receiving books, and now, they are both into vinyl records. I wish I would have held on to all those vinyls I had growing up because they have certainly made a comeback. So vinyls are great for teen guy easter baskets, too.
Techno Gadgets:
Just like entertainment, everyone loves techno gadget gift ideas. To me, these are things we are probably going to pick up anyway, so finding them in a fun style or color and adding them to their Easter baskets is always a win-win for us.
Gift Cards for:
Gifts are always great and boys LOVE to get gifts carts to their favorite places to eat and favorite store, so think of those places, too.
Here are a few ideas:
Favorite Fast Food chain
Favorite Hobby store
Favorite Clothing store
Gamestop
Best Buy
Gas Card for those drivers is great, too!
For the Driver:
Now that my son is driving, my husband requires him to help with car maintenance, too. Now, he's not doing any sort of heavy duty maintenance on the car, but he can keep the gas tank filled and keep it washed and clean. There are all kinds of fun ideas for the first-time driver. Grab a cool keychain or air freshener. A car decal would be fun, too.
Extras:
I always look for fun extras when I'm at the store that I know my boys will have fun with. Think of fun toys that are small and inexpensive. My boys, and even my husband love Nerf guns–we have those little foam dart things everywhere–and they also love drawing, so I like to pick up a pack of mechanical pencils and maybe a sketchbook.
Inspirational Ideas to Celebrate His Faith:
However you fill your teen's Easter basket this year, be sure to include a few inspirational items as a reminder of the reason we celebrate and the hope we find in Jesus Christ. This Apologetics study Bible is an all-time favorite. Check out this Study Bible for Students post to learn more about it. Both of my boys have a copy of this one and I think it is an essential for any Christian teen these days. It's a great choice anytime of the year, but the top pick for Easter.
Bible Case
Prayer Journal
Cross Necklace
Faith-based Bracelet
Other Easter Basket Filler Favorites
So here's the thing. Besides picking a couple of the items from this exhaustive list of teen guy Easter gifts, I do have a few Easter basket fillers that are my favorites. My boys pretty much ignore them, but since I'm nostalgic and want my boys to experience at least a little bit of my own Easter basket memories, I always include marshmallow Peeps, a chocolate bunny, and Robin Eggs.
My boys aren't that crazy for marshmallow Peeps and I don't know if they really love the malted Robin Eggs. It's funny though, because they now expect these in their baskets each year, and since I LOVE marshmallow Peeps (yes, I think I'm the only person on the planet that admits this) I happily help them eat them. It's become sort of an Easter tradition to 'share' their treats, too.
Easter Basket Ideas Teen Boys Will Actually Love! Click To Tweet
Other Topics You May Enjoy
OUR BEST BOARD GAMES FOR TEEN BOYS