This post may contain affiliate links. Please see my full disclosure policy for details.
These Thanksgiving worksheets are all about turkey fun. It's Thanksgiving for kids with free printable worksheets while learning a little bit about turkeys, too.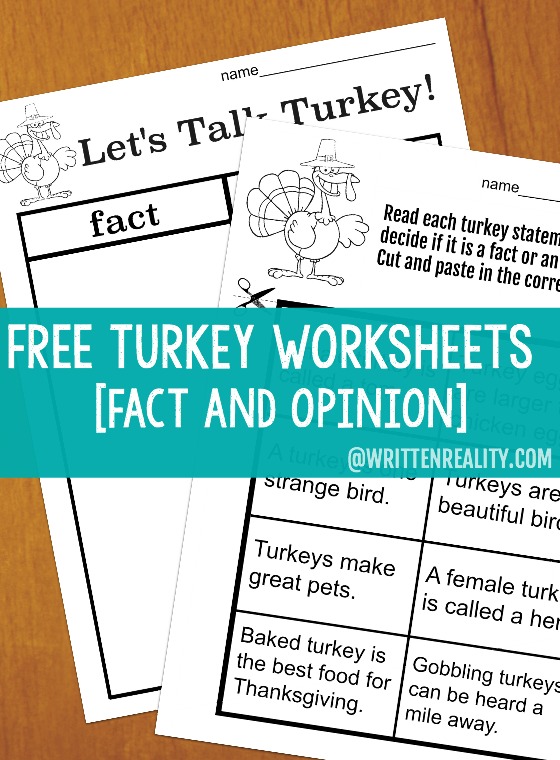 Free Thanksgiving Worksheets
When I taught third grade, my kids loved our read alouds. And during Thanksgiving, like all other holidays, I had plenty of fun books to choose from.
As I mentioned in 10 Thanksgiving Books Every Kid Should Know, the turkey-themed books are some of my all-time favorites. So I thought I could share a fun way to incorporate them into your routine to make Thanksgiving for kids a little more fun. This Thanksgiving worksheet is just a supplemental idea to add to your own learning materials. It offers a quick review on fact and opinion and is perfect to use after reading a turkey-themed picture book from your read alouds.
Don't forget to check out our favorite ABC Thanksgiving printable, too. It's perfect for listing all the wonderful things you are thankful for and would make a great idea for your family to complete together.
Here's a quick tip:
Kids often confuse fact and opinion with true or false and can have trouble deciding if a statement is fact because they aren't sure if it's true.
When helping kids decide whether a statement is fact or opinion, ask them, "Is the statement something that can proven true or false?"
This often helps them separate fact and opinion regardless of whether or not they know that the statement is true or false.
Fact and Opinion Printables
Just print the worksheets and ask your child to follow the easy directions by cutting out the fact and opinion cards and pasting to the chart. It's a great way to add in a little review on this reading standard while talking a little turkey fun, too! Both worksheets work together, so be sure to click on each of the following links and print them both.
Print the Turkey Talk Fact/Opinion Chart
Print the Turkey Fact/Opinion Cards
Let's Talk Turkey With These Free Thanksgiving Worksheets Click To Tweet
Other Topics You May Enjoy