This post may contain affiliate links. Please see my full disclosure policy for details.
Looking for a fun way to celebrate family game night? Here's how to make your own homemade trophy for extra family fun. Who'll be the next Family Game Night champ?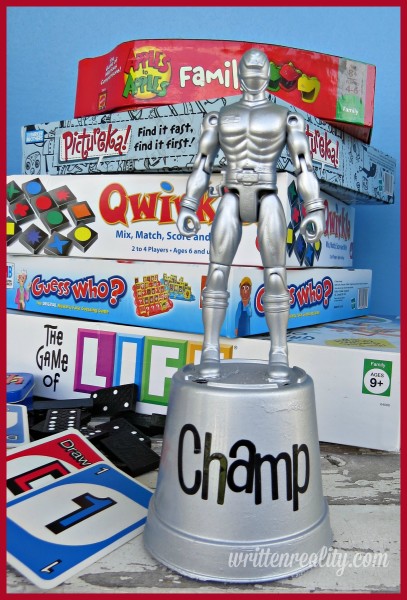 A few years ago, my husband and I began a weekly Scrabble
competition. On Sundays, after church service and dinner, the two of us would clear the table and play for Sunday's Scrabble Champ.
>>7 Best Card Games for Family Game Night<<
At first, I blew my competition out of the water! Let's face it. I'm an avid reader and writer. My husband is not. However, he's a strategist. And soon, he learned to use his teeny cat-hop-fun words in creative enough ways to win.
That's when he began posting our scores on the refrigerator and making comments as the official champ throughout the rest of the week. The next Christmas, I bought us a t-shirt that spelled out champion in Scrabble tiles for the winner to wear to the next Sunday Scrabble competition.
It added even more fun and our boys couldn't wait to see who would win the honor of wearing the "crown."
Make A Trophy For Family Game Night
Want to add some friendly competition to your family fun?
Just like the t-shirt, a trophy can serve as bragging rights.
Now that my boys are older, our family fun nights have grown more competitive. Both boys can certainly hold their own with any game we choose to play, and, since we've played these games so many times now, they've learned all sorts of tricks to keep all of us on our toes.
The trophy just adds a little more fun to the mix.
Purchase an inexpensive Trophy Cup
or a trophy that represents your family's favorite hobby or sport. These small trophies are only a few dollars and can be purchased in pretty much every department store.
This activity is one of the many ideas found in Dinner Games Grab your copy, today!


Homemade Family Trophy from Castaways
However, we decided to make our own trophy with castaways we found around the house.
With two boys, we have plenty of old action hero toys, so we simply super glued one to a small plastic flowerpot and painted the entire thing with silver paint.
My youngest son liked the idea so much, he created us another one out of his Legos. The ideas for this one are endless. So just have fun with it and create a trophy for your family that's suited to their tastes.
>>BEST EVER LEGO Gifts Every Kid Will Love<<
Other uses for your family trophy?
Present the trophy as an award for other activities, such as finished chores first, or earned an A on a test.
Just remember to keep the competition friendly and light-hearted. It's a great way for little ones to learn the lessons of winning and losing, and the value in celebrating everyone's accomplishments.
Other Topics You May Enjoy