This post may contain affiliate links. Please see my full disclosure policy for details.
Check out this week's mom style fashion find featuring preppy stripes and a touch of pink. Join us this week for Fashion Friday to discover fun finds for moms on the go.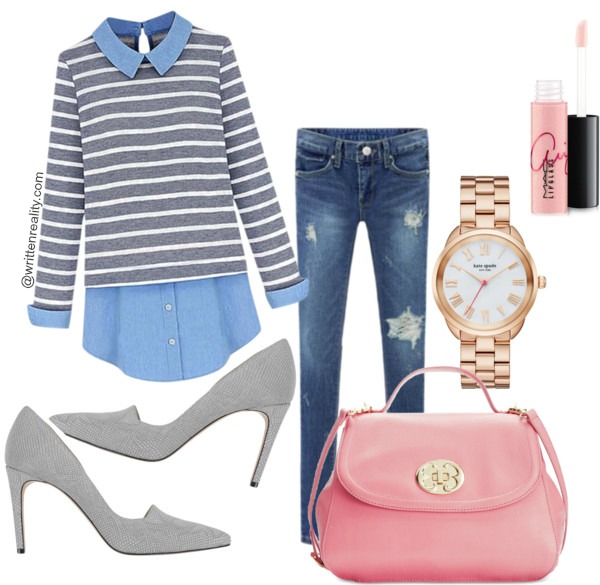 Mom Style Fashion Preppy Stripes
I am always on the lookout for ways to dress up my casual wear. I love my jeans because they are comfortable and durable, too. Plus, they go with everything. But I can get stuck in a rut with my casual wear. Let's face it. It's super easy to just throw on the same old thing. That's why I'm sharing this preppy stripes outfit idea for Mom Style Fashion this week.
It's a super easy and fun way to dress up your favorite pair of jeans. Just throw on a button up and sweater in a fresh new design and you're good to go. I love this striped sweater with the blue long sleeve combination. It goes well with all sorts of things. So for this outfit idea, I thought I'd add a pair of pumps and a blushing rose colored bag to give this fashion Friday ensemble a little extra on-the-go style.
I'm also in love with watches. They add just the right of bling to any outfit, so think about watches as a great accessory for any outfit, too.
Here's where to find these mom style fashion favorites:
Striped Turndown Color w/Long Sleeve Shirt
Blue Bleached Ripped Slim Denim
Emma Fox Top Handle Satchel in Rose
Kate Spade Crosstown Rose Gold-tone Watch
Mac Viva Glam Ariana Grande Lipglass
What about you?
What is your favorite fashion find for moms on the go? Share your ideas with us!
Check out some of these previous mom style fashion finds, too: