This post may contain affiliate links. Please see my full disclosure policy for details.
Sheet Pan Chicken Recipe : Sheet pan chicken recipes are fabulous for busy weeknights Try this one that's made with brown sugar and sweet potatoes for a comfort food favorite the whole family will enjoy.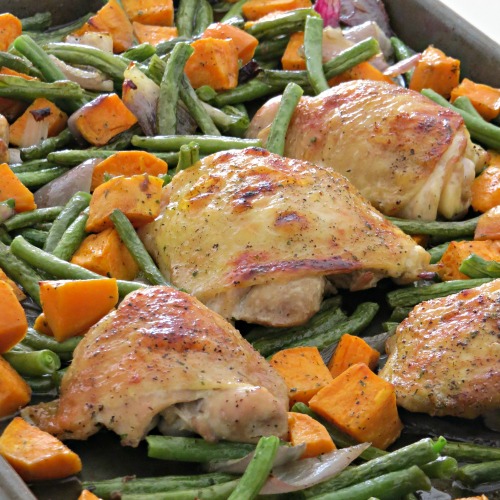 This week's been super busy for us, so my meal planning called for quick and easy recipes that I could throw in the oven and prepare in a limited amount of time. That's why I made this easy sheet pan chicken recipe. By using chicken thighs, it didn't take long at all to bake and the meat was juicy and tender. I also created an even heartier meal by filling the pan with sweet potatoes and green beans. This one is really a comfort food favorite, so I knew everyone would really enjoy it after a long day at school and work.


Sheet Pan Chicken Recipe
Ingredients
6 – 8 chicken thighs
1/2 cup brown sugar
2 Tablespoons olive oil
2 sweet potatoes, peeled and cubed
16 ounces fresh green beans
1 medium purple onion, sliced
1 package Ranch Salad Dressing and Seasoning Mix
Salt and pepper, to taste
Directions
Preheat the oven to 400 degrees.
Spray 2 large baking sheets with nonstick cooking spray and set aside.
In a large bowl, toss vegetables in olive oil and 1 Tbsp. of Ranch seasoning until well coated.
Spread the vegetables evenly on the baking sheet.
Rub each piece of chicken with a generous supply of brown sugar and a sprinkling of the Ranch seasoning, then place on the baking sheet.
Season everything with a little salt and pepper and then bake for about 30 minutes or until the chicken is completely cooked through.
Broil for about 2 minutes to slightly char and brown.
Enjoy!
If you like this easy Sheet Pan Chicken Recipe, then check out our One Sheet Pan Shrimp Fajitas, too!
Other Recipes You May Enjoy