This post may contain affiliate links. Please see my full disclosure policy for details.
Are you planning to cook for a crowd this holiday season, but stressed over your lack of kitchen space? Don't let your small kitchen keep you from hosting this year's family dinner.
Here are 5 smart solutions for holiday cooking in your small space.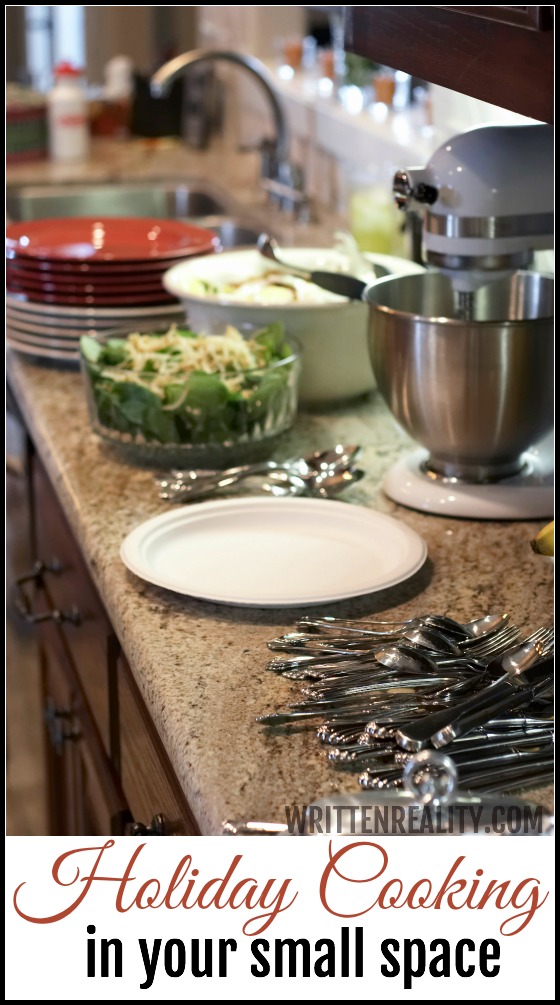 Small Kitchen Tips for Holiday Cooking
1. Plan Your Menu Around Your Space
Let's face it. We'd all love to cook our holiday meal in a huge gourmet kitchen fully stocked with top of the line appliances and every cooking gadget known to man.
But at my house, that's not happening. And through the years I've learned to use every square inch of my tiny kitchen to create the meals my family enjoys.
When planning your holiday menu this year, evaluate your space.
Small refrigerator? Consider an ice chest for extra storage.
Baking a turkey? Cook your casserole in a Crockpot or create other sides on the stove.
There are plenty of make-ahead options that can be prepared the day before or even frozen for later.
As you plan your holiday menu, note cooking times for each dish and consider making a few things ahead that can easily be reheated while keeping that straight-from-the-oven great taste.
2. Consider Prepackaged
There's no shame in a few prepackaged sides to stretch your menu. Store-bought dinner rolls save time and space in your oven. And nowadays, local grocery stores offer plenty of tasty casseroles and sides.
Cook just a few of your family's favorites. You'll save time, space, and your sanity by purchasing those prepackaged fillers from the store.
3. Clean As You Go
For those of us who love cooking, small kitchens can easily create a big cluttered mess.
Clean pots and pans as you use them and clear off that limited counter space as you go. That way, measuring cups are readily available for the next dish you're making, and that favorite mixing bowl is rinsed and ready, too.
4. Host a Potluck
I have family and friends who love to share their own holiday favorites. Take advantage of their willingness to contribute and plan your menu by including those favorite dishes, too.
Cooking for a crowd not only takes time, but extra money. By hosting a potluck, you'll save time, free up a little cooking space, and save money, too.
5. Pull Out the Paper Products
I'm all about presentation. I love the beautiful place settings and the sparkling glass dishes set out for a gourmet meal. But when it comes to a crowd, paper products can be a life changer.
They're inexpensive, easy for cleanup, and don't require a large china cabinet for storage.
Opt for simple holiday decor, a few fancy dishes, and use paper plates and even plastic utensils to avoid the dirty dish pileup this year.
What about you?
What's your simple solution when cooking in a smaller space? Share your ideas with us.
Other Topics You May Enjoy