This post may contain affiliate links. Please see my full disclosure policy for details.
For the past few weeks it's been All Things Grilled at Written Reality, along with a few Summer Treats and Berry Desserts.
Here's another summertime favorite:
Strawberry Topping
It's a sweet strawberry sauce you can add to all sorts of breads and pastries. The best part is that's it's SUPER EASY and can be made in minutes–just perfect for a simple treat after dinner or to add to anything from biscuits to vanilla ice cream.
Strawberry Sauce Recipe
This past weekend, Hubby fired up the grill again. So while he cooked up some fabulous burgers, I decided to grab a few fresh strawberries to make this simple sauce. It really is an easy treat.
[Tweet "Have you tried this Strawberry Sauce? It's simple and sweet!"]
For this one, just think Strawberry Jam.
If you've ever made jam, this recipe is similar, only a whole lot easier without the mess–no canning or water bathing involved!
It smells wonderful on the stove and everyone is dying for a taste by the time it's ready, too.
Take Note: The following recipe is just enough for a family (6-8) serving, so if you're planning a party, make sure to make a whole lot more.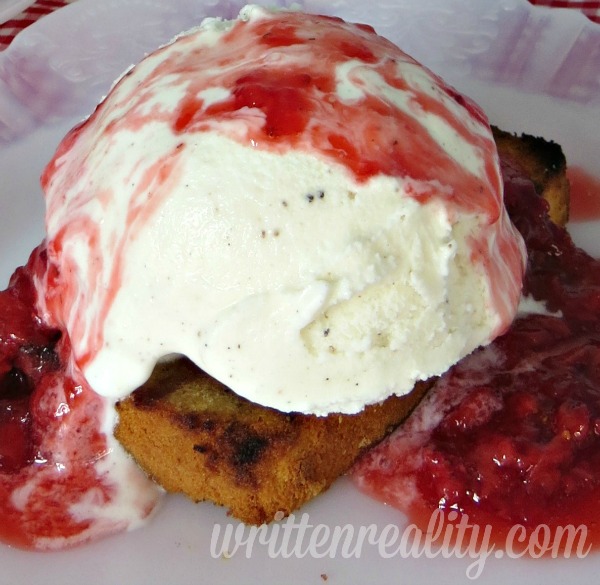 Strawberry Sauce Topping
2014-05-26 09:27:32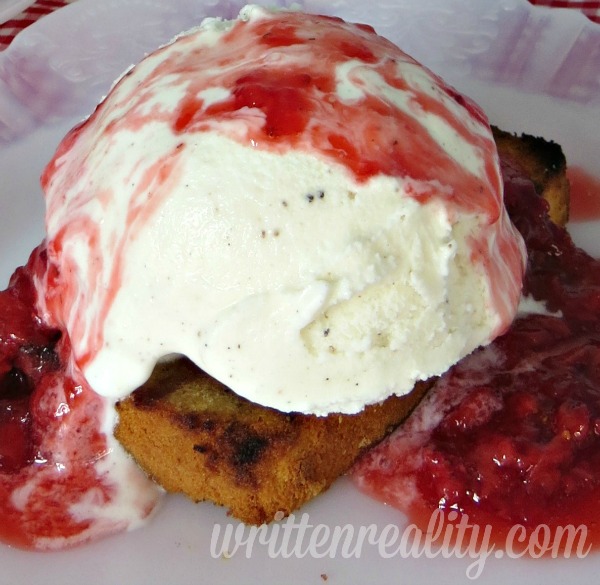 Ingredients
1 pint of fresh strawberries, cleaned and chopped
1/3 cup of sugar
1 Tablespoon of vanilla
Instructions
Combine all ingredients in a saucepan over medium heat.
Stir over heat for a few minutes until the mixture begins to bubble.
Once bubbly, turn off the heat and leave for 15 minutes or so to allow the sauce to thicken.
Mash any remaining strawberry chunks.
Serve over ice cream, cake, and all things dessert!
Written Reality https://writtenreality.com/
Try a few of these Summer Treats:
30 Days of BERRY Delicious Desserts
What about you?
What's your favorite fruit topping? Share your ideas with us!