This post may contain affiliate links. Please see my full disclosure policy for details.
Planning a day of family fun at the beach? Here's a Must-Have list of Dollar Store Beach Essentials every mom should know.
Last year, we spent a few days of our Spring Break at the beach. The weather was beautiful and just right for some much-needed time of relaxation and family fun. While there, we gathered our lounge chairs and beach bag essentials, strapped extra chairs and buckets to the kids, and made our way across the hot sand to claim our spot by the shore.
After setting up all our beach gear, we needed another vacation! And yet, we still managed to forget a few things!
Dollar Store Beach Essentials Every Mom Should Know
Although a day at the beach is fun, lugging beach gear over the hot sand can be a hassle. Among all the beach chairs and buckets, it's easy to forget a few of the bare essentials along the way.
Basic Beach Essentials [for less]
For your next trip to the sandy shores, try to include only the basic beach essentials for less! Roll up an old blanket that's large enough for everyone to use, instead of lugging along a zillion chairs. Attach lip balm, car keys, and sunglasses to a lanyard or a plastic wristband.
Above all, keep down cost by avoiding big ticket items [like name brand flip-flops or sunglasses] that could easily be swept away by the current and ruin your fun day in the sun.

Top 10 Beach Bag Essentials
You can grab all of the items on this list of beach essentials at just about any local dollar store! Just remember to shop early in the season for the best selections.
They carry all sorts of fun items that only cost a dollar. So if you do lose them on the beach or forget and leave them behind in the hotel, you won't be out as much as you would have been if you'd invested in high priced beach essentials from some other department store.
So save those big ticket items for others things, or even better, put away the cash you save for your next vacation, and pick up these items at your local dollar store.
#2 Large Beach Towel
#4 Sunscreen
#5 Lip Balm
#7 Snacks
#8 Magazines or Books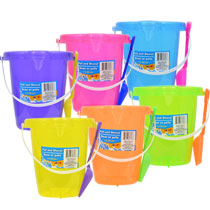 Dollar Deal Beach Gear You Don't Want to Forget!
For most moms, the top 10 Beach Bag essentials are easy, but check out these 5 EXTRA items that could make your next trip to the beach an even easier one.
These Dollar Deals are quick solutions for your fun in the sun. And, again every item can be found at your local dollar store.
#1 Baby Powder
Ever reach for a snack with your hands covered in sticky wet beach sand? Baby powder's the perfect solution! Just rub on a little of the powder and the sand is easily swept away!
#2 Gallon Size Freezer Bag
Grab a gallon size freezer bag from your pantry to keep cell phones, wallets, etc. safe, dry, and sand-free.
#3 First Aid Kit
Carry along your own bandages and quick first aid tools to avoid extra high prices from souvenir shops.
#4 Shower Liner
Beach blankets may be beautiful, but they're pricey. Add a fabric shower liner underneath an old blanket or a row of towels. The lightweight material is perfect for shaking away grass and sand and will keep your items on top safe and dry.
#5 Plastic Whistle
Have a kid who likes to go exploring or tends to wander a little too far from shore? Whistles can be a fun solution. Discuss the beach rules and warning signal ahead of time so your child is always alert and listening for your sound.
Other Topics You May Enjoy