This post may contain affiliate links. Please see my full disclosure policy for details.
Whether you are looking for books for your kid's reading list from school or just wanting to add a few books to their personal library, use these resources to find free or cheap kids books that are great for summer reading.
I am the publisher of Brain Power Boy. Our site is full of resources for boys and we are big book people. We have a lot of bookshelves in our house. Every one of them is overflowing! We recently went through all of our books to get rid of the ones we are done with which got me thinking about places we go to get the books we want.
We often write about the best books for boys on our site and have a lot of lists full of books boys will love.
Here is how we stock up on books, because, of course, everyone needs more books!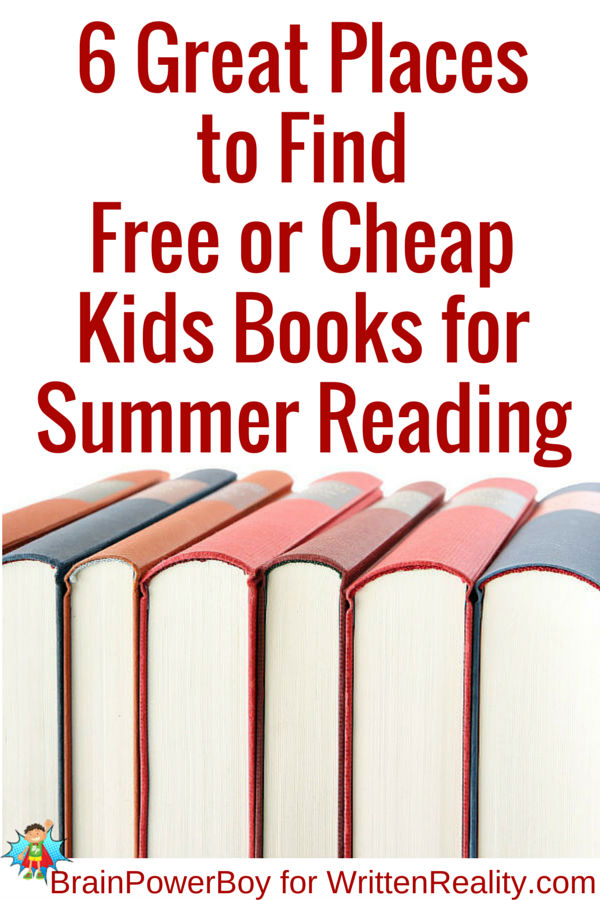 This post may contain affiliate links which means we may receive a small commission, at no cost to you, if you make a purchase through a link. All opinions are our own and we share things we think would be of interest to boys.
We are big library users but these are the places we go find books we want to own and ways to get them free or cheap.
We have books in physical form and we also have ebooks. Our ebooks are not read nearly as much as the physical books are but we do find them handy for traveling. We all enjoy having an actual book in our hands. I guess we are a bit old-school that way.
Where to Find Free or Cheap Books for Summer Reading
Ebooks
1. A free ebook source that we really like is called Loyal Books. I have linked directly to the Children's Book section. There are a lot of classic titles here such as Swiss Family Robinson, and Treasure Island. Don't miss The Book of Dragons and The Burgess Animal Book which are both wonderful titles that boys are sure to go for.
2. Great ebooks for $1.00? Count me in! These are really good titles and they only cost $1.00 each. Loading up your child's tablet with a bunch of new books for summer vacation won't even break the bank. Keep in mind that titles change so if you see something you want, go ahead and purchase. I watch this list on a regular basis. 30 Kids' Kindle Books for $1 Each
3. Project Gutenberg has ebooks to read online or download in various formats. I have linked to the Children's Bookshelf. Boys may also enjoy the Animal Bookshelf and the Science Bookshelf.
Physical Books
4. A lot of people don't think of this idea but be sure to check out the homeschool book sales in your area. Honestly, if you are looking for free or cheap kids books, these sales have a treasure trove of titles for kids of all ages. Most of these book sales are not limited to curriculum and we often find super reading books there including picture books, chapter books and nonfiction books on many topics. Call your closest homeschool association to see which groups in your area have sales.
5. Alibris has a selection of used books that are reasonably priced. I am linking to the search that will bring up 99 cent books. Keep in mind that this price doesn't include shipping. They have a very big selection and this site works well if you are looking for a specific title. TIP: Look at the top of the site for coupon codes.
6. Our favorite place to get books really cheap is the library book sale. We go to several each year. Our go-to resource for finding book sales that are out of our area is Booksalefinder. Pull up your state and browse the sales. They are listed by month. Be sure to call libraries as well because not everyone lists their sales here. Watch for bag sales toward the end of the sale for great deals. We have filled up grocery bags full of books for $3.00 a bag.
Plus here is a bonus suggestion. Amazon is the place we go if we want a new book or we can't find the title we are looking for in any of the places listed above. We have found some of the books my son really wanted at a nicely discounted price. Here are few of the titles on our wish list right now that are great for boys' summer reading:
I hope this will help you to grab some free or cheap kids books for summer reading. I suggest having a very wide variety of books available at home for your family to read. In other words, stock up on books!
For some great summer reading titles try:
Superhero Picture Books
10 Books to Keep Boys Reading
Father-Son Activity Books
20 Science Fiction Books for Young Readers
Latest posts by Sheila Rogers
(see all)