This post may contain affiliate links. Please see my full disclosure policy for details.
Best Recipes for Ground Beef : Grab these quick recipes using ground beef. They're easy to make dinner recipes your whole family will love.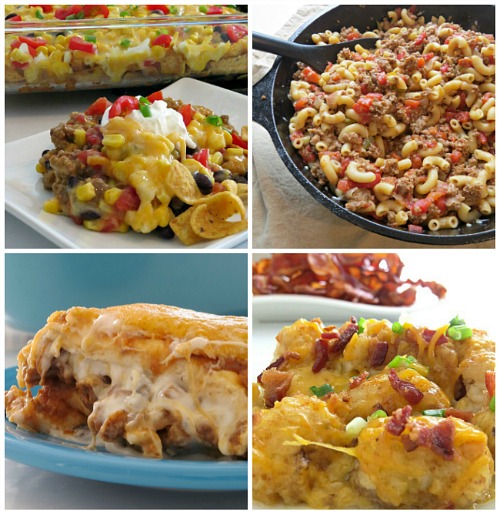 We love cooking ground beef recipes at our house. There are just so many ways to make it and you can easily just brown the ground beef and toss it with so many other ingredients to make your favorite casserole or even an easy lunch or breakfast idea, too.
After trying out tons of ground beef recipes, I decided it was time to round up some of my all-time favorites. Most of these are on my go-to meal ideas. That means, I keep these ingredients in my pantry and fridge so that I can always throw them together on nights when we're busy or when I just don't want to spend too much time in the kitchen.
Grab a copy of our Busy Mom's Cooking Guide for more time-saving cooking tips.
Cooking with ground beef can make serving up your supper super easy. However, there are a few tips for ground beef cooking that can make your ground beef recipes even tastier.
Try to use fresh ground beef whenever possible for hamburgers or hamburger steak type recipes. However, when using crumbled ground beef in a casserole or soup, there's very little difference in the taste from thawing frozen or using fresh.
When using crumbled ground beef for casseroles and soups, rinse the ground beef in hot water just after browning and drain. This will really reduce the amount of fat content and will keep your dishes from being too greasy, too.
Always cook ground beef at a medium temperature, avoiding those high temps that will overdry and remove the wonderful flavor of the meat.
7 Most Delicious Ways to Serve a Sandwich

Best Recipes for Ground Beef
Ever tried a burger made in a pot? These slow cooker cheeseburger sandwiches are easy, cheesy, and loaded with flavor!
This is the best meatloaf you'll ever taste. It's blended with the perfect seasonings and a cheesy top. It is the most delicious meatloaf recipe ever!
This beefy pasta casserole is a super easy one pan ground beef dish that's filled with peppers, onions, and wonderful flavors your family will love.
Looking for easy casseroles? This Tex Mex Casserole recipe is a super easy meal that's layered with flavor and all things delicious. Even better, it's a quick and easy meal that can be ready to serve in 30 minutes or less!
I couldn't share a round up of our best recipes for ground beef without including this one. This easy casserole recipe is filled with ground beef and loaded with cheese. It's a one dish meal your family will love.
Need ideas for easy dinner casserole recipes? This Cheeseburger Casserole recipe is a comfort food classic.
Try this easy homemade sloppy joe recipe that's quick to make and super delicious. You'll never eat sloppy joe mix in a can again.
Try this hearty hamburger soup for supper tonight. It's filled with vegetables and ground beef, and loaded with flavor.
This recipe for taco filled pasta shells is an easy one. It's the perfect meal for busy weeknights that the whole family will love.
Try this classic beef and tomato soup recipe for dinner tonight. It's the perfect soup for busy weeknights that's filled with pasta creating one hearty comfort food dish.
This Italian ground beef casserole is filled with ground beef, tomato sauce, and cheese. Then it's covered with a wonderful flaky crescent roll crust.
Our final to share in our best recipes for ground beef is our tried and true Cheesy Skillet Lasagna recipe. It's one of our family favorites that's hearty and filling, and quick to make.
Try one of our BEST Easy Shrimp Recipes this week!
Other Recipes You May Enjoy