This post may contain affiliate links. Please see my full disclosure policy for details.
Today, I'm super excited to share a guest post from Barb of A Live in Balance. Many of you may already know Barb as a fellow hostess of Motivation Monday and her practical advice for moms about everything from organization to saving money.
But for this post today, it's all about Christmas! Barb is sharing Teacher Gift Ideas, and as a dedicated parent who loves to volunteer, she knows a thing or two about teachers and what they really want for Christmas.
So welcome, Barb! We're happy you've joined us this week.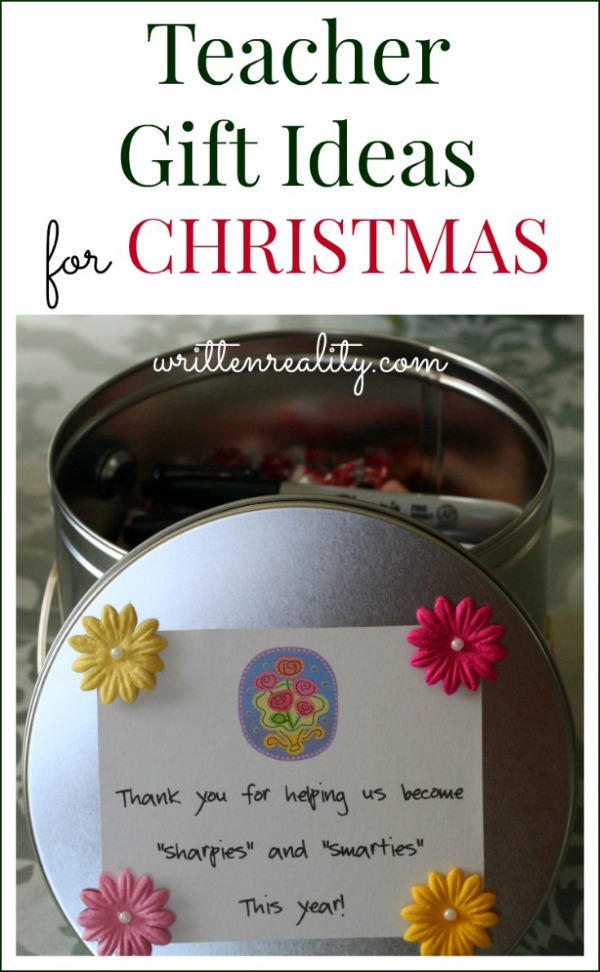 This post may contain affiliate links.
Teachers play a huge role in my family's life with 5 kids in school. I am constantly in contact with their teachers making sure my kids are doing well in school and doing their best in the school community. We're partners in educating my children.
At Christmas time, I like to thank my children's teachers for their hard work with my hooligans children. After all they do so much. Thanking them is the least I can do.
I've rounded up lots of ways to thank your children's teachers. Some take a little bit of time. Some require money. But, the best gift is a handwritten note thanking your child's teacher for teaching your child and helping to raise them into a capable, responsible adult.
My Teacher Gifts Over the Years
Some years, I have time to make gifts; other years I buy gift cards from the teacher's favorite store. Since our school sells gift cards which in turn give money back to the school, I like to buy the gift cards through the school.
Smarties and Sharpies
Smarties and Sharpies is an easy gift you could make in about 10 minutes. All you need is a container, a label, Smartie candies, Sharpie markers, and a few cute decorations. I printed my label on my printer using a cute image from Microsoft word. I found the round tin at Michael's Craft Store.
Peppermint Bark Candy
Peppermint Bark candy is another easy gift which you can vary depending on the recipient. If you need to make this nut-allergy free, it's easy to find allergy-free chocolate and candy canes. If you're not sure whether the teacher had food allergies, check with the school secretary to be sure.
Volunteering!
Yes, I said that volunteering is a great teacher gift. As a Kindergarten Homeroom mom for 2 years, I know how invaluable parent volunteers are in the Kindergarten classroom. They're equally valuable elsewhere in your child's school – raising funds for the school, helping out at lunch time, volunteering in the library, stuffing envelopes at home.
To be honest, volunteering is a gift to me as much as it helps my children's teachers. I get to know the teachers better. I understand school policy better. I meet other parents. Plus, I show my kids how important their school is to our family. There's always a way you can volunteer for your child's school in the classroom or at home.
Goodies for the Teachers Lounge
If your child comes in contact with lots of teachers during the school day, how about making a tray of goodies for the teacher's lounge? Teachers on a break always appreciate a piece of chocolate or a tasty cookie just like us moms need our occasional treat. I like to make up a tray with a mixture of decorated and plain cookies in case the teachers want to limit their sugar intake.
Do check with the school first before sending in a tray in case the school can't accept it for dietary reasons or allergy concerns.
Fun Ideas for Teacher Gifts
All of these ideas are easy to do with your kids. I always like to involve my kids in making gifts for their teachers. I think it's important for kids to give back to adults who spend so much time working with them.
Food – check for food allergies. Usually the school secretary has this information.
Gift cards – Starbucks, gas, Staples, grocery store, favorite clothing store. The homeroom mom usually has information about the teacher's favorite stores.
Use Shift My Gift to give a gift to their charity of choice in their name – they may have mentioned something, or you can check with the school secretary or homeroom mom
Donate a book to the school library in the teacher's name. Check with the librarian first about making book donations; she may have a list of suggestions for you to choose from.
A small plant for the classroom. Always choose an easy to care for plant, and one that can tolerate a range of temperatures.
Items Teachers Need for Their Classroom
In this era of tight school budgets, it's not unusual for teachers to purchase some classroom supplies out of their own pocket. Or, they may purchase extra supplies to help a student unable to purchase their own due to financial hardships.
Office Supplies (Post-it Notes, Dry-Erase Markers, Paper Clips, Notebooks, Pens, Paper, Scissors)
School Supplies (Markers, Paper, Pens, Pencils, Erasers, Colors)
Cleaning Supplies (Wipes, Sprays, Paper Towels, Washcloths)
Age-Appropriate Books (Chapter Books, Learn To Read Books, Non-Fiction Books)
Personalized Labels ("This belongs in TEACHER'S CLASSROOM")
Gift Cards to stores like Staples, Office Depot, Office Max, Walmart, or Target
Teacher Gifts for the Male Teacher
Male teachers may seem hard to buy for, but they're really not. The classroom gifts work well for them, as well as the following.
Movie certificate taped to a box of popcorn
Car Wash Coupons
Gas Gift Card
Jar of Peanuts or Mixed Nuts
Favorite candy/pop
Remember, the best gift a teacher ever receives is a thank you for their hard work and dedication to educating your child.
About Barb
Barb is a mom of 4 boys and 1 princess who spends her day keeping track of Nerf guns, stuffed animals, and library books when she isn't writing about all the organizing, cooking, and reading she manages to fit in between the crazy, loud moments Her idea of quiet time is a trail run in the woods. Barb can be found at A Life in Balance.
Never Miss a Post
Other Topics You May Enjoy
10 Lego Gifts Every Kid Will Love
BEST EVER Christmas Games for Family Fun
65 Stocking Stuffer Ideas for a Teen Guy