This post may contain affiliate links. Please see my full disclosure policy for details.
Diesel NSBBWatches for Teen Boys : What do teen boys like? Sometimes it's hard to know exactly, but these super cool watches make great gift ideas! Check out our 12 favorite watches for teen boys. These are perfect for upcoming birthdays and Christmas gifts, too.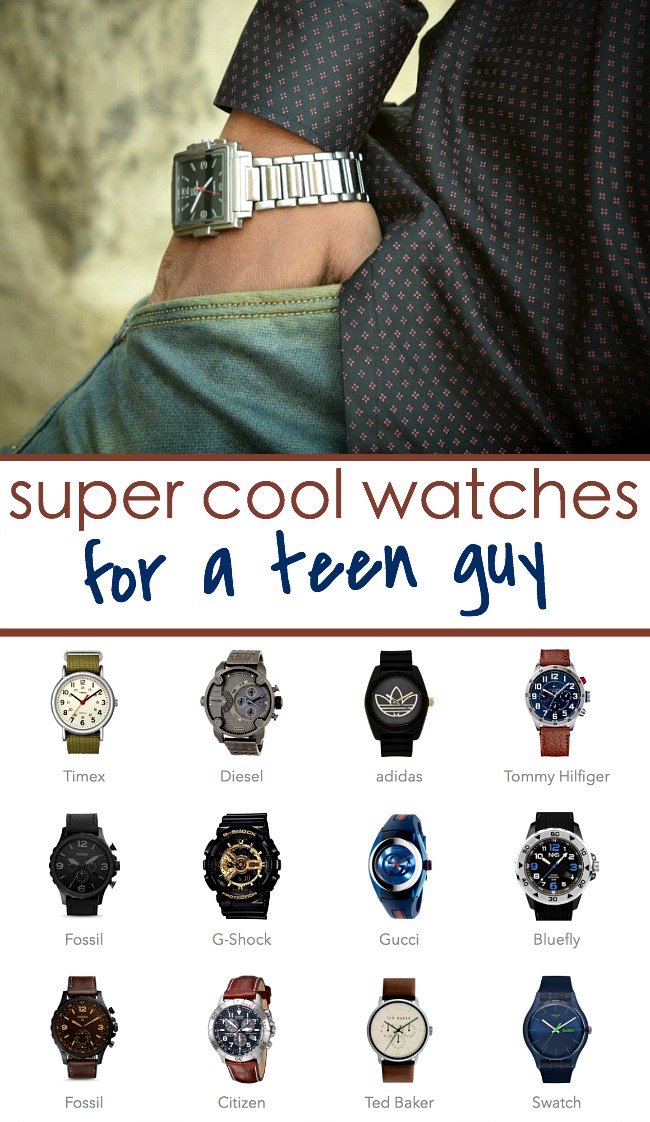 Both of my boys have always loved wearing watches. Ever since they could walk, they liked the idea of having a watch around their wrists, and they started asking for them even before they could tell time. Now that they're older, they still have a love for watches. Now, though, they look for something that is stylish, trendy, and will do little extras that most of these modern watches claim to do.
Here are some of our favorite watches for teen boys that you may want to check out for the teen guy in your life. I've also included a wide price range of options to fit various budgets and needs as well. If you see a watch that catches your eye, just click on the image and it will take you straight to where you can grab it. I've also included a few more details at the bottom of the post about each one we are featuring, so be sure to scroll down and read all those extras.
65 Awesome Stocking Stuffers for a Teen Guy
Watches for Teen Boys
I love the brown leather band on this one that goes great with the darker clock face. This is one of those watches that will go with everything and never go out of style, either.
If you're looking for a reasonably priced everyday watch, then this one is great idea. It features a comfortable band with slip thru straps for easy wearing. The straps also come in several colors and patterns, so be sure to look at all the other options for this one.
I love this look and I know both of my teen boys would love wearing it, too! The gunmetal gives it a distinct stylish feel and it's pretty hefty looking with a cool gadget-like face. I must say, I also love the watch box that's included with this one. Just add a bow to the top and you're done.
I love Adidas everything, so when I saw this watch, I had to include it in my favorites. It's a sleek and simple design that you can wear anywhere and it also says that it's water resistant, which is a great feature when buying a watch for a teen boy.
I like the brown leather strap on this watch. It's a great option for casual that goes perfectly with jeans. This would certainly be a teen guy's go-to watch for everyday wear.
Who doesn't love a good Fossil watch? Every year when we go on vacation, my son and I head to our favorite Fossil outlet to check out their watches. They have so many styles to choose from and we always leave the store with a new one. This black leather version is from the Nate collection. I like it's monochrome look that would go great with both casual and more of a dressed up for going out look, too.
So here's a bold one. It's multi-layered in gold and black with analog and digital display. The dial is shock and magnetic resistant with so many other features, I can't even list them all. This would make a fabulous surprise for your favorite teen guy.
If you're willing to spend a little extra cash for a watch this year, then you might want to check out this super cool Gucci version. It is gorgeous! It comes in several colors, but I'm crazy for the bold and bright blue.
I'm in love with the bold black and blue colors on this face of this watch. It has that masculine hefty vibe that would make a great go-to choice for your teen guy to wear all the time.
Here's another favorite Fossil watch, but this one's the Q Nate dark brown. It's a smartwatch with a built in fitness tracker and can do all those fun things that a smart watch can do.
This watch never needs a battery. It uses the most advance technology in watch making to create an eco-drive perpetual calendar. And, even better, it's a beautiful timepiece, too.
I love the sleek feel of this one. It's casual and classic, but stylish and trendy at the same time. This is just one of those watches a teen guy can wear forever.
The Swatch watch is a more affordable version that's still just as trendy and stylish, but for much less of a price tag. I like that it's a unisex version that anyone can enjoy wearing.
Cool Halloween Costumes for Teen Boys
Other Topics You May Enjoy