This post may contain affiliate links. Please see my full disclosure policy for details.
Looking for fun and inexpensive ways to entertain the kids this summer? Check out these summer toys your kids can make for themselves.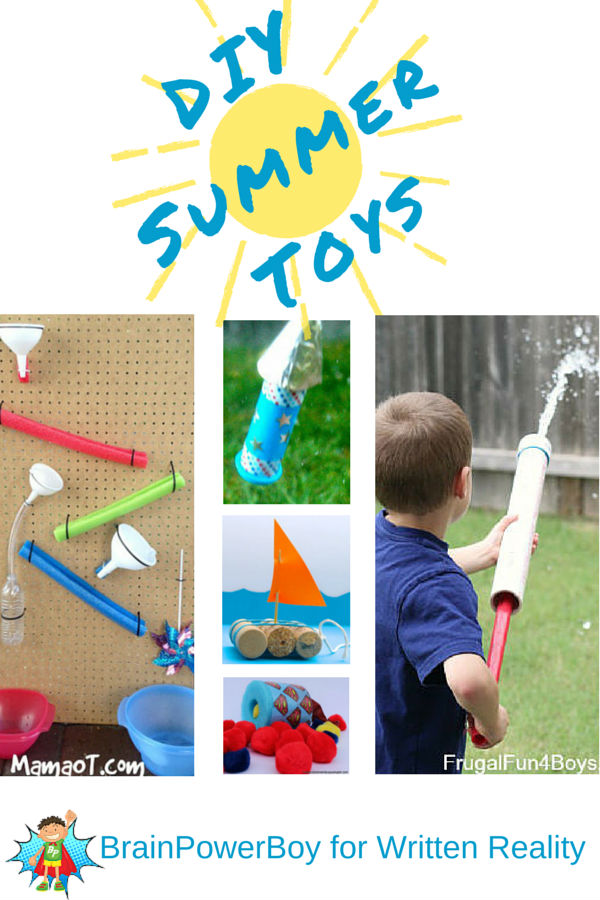 One thing that we like to do is make toys so we rounded up some fun to make summer toys that kids would love to play with.
Summer is the perfect time to get outside and get creative. One super way to do that is to pick a few projects to tackle. Take a look at the selections with your kids and see which ones they would like to try.
All of these DIY summer toys are easy to make. A few require a trip to the hardware store but that is a neat part of the whole experience.
DIY Summer Toys:
Bubble Wands
I really liked the idea of using natural materials to make some bubble wands. Experiment – try different vines and thin sticks to see what you can make.
Have you seen those awesome gigantic bubbles? Construct your own giant bubble wand maker. You will need a bit of glycerin to make the bubbles but it isn't expensive.
Water Shooters
Pom Pom/Marshmallow Shooter
This classic shooter has superhero tape on it. Fun! Draw some chalk targets or just shoot for fun.
If you want to take things up a notch, try these marshmallow shooters made from PVC pipes. They are fun to construct and even more fun to play with.
Rockets
This is an easy to make toy. All you need is a pen and a bit of paper. These rocket flyers can go quite far!
Who doesn't like a toy that explodes, right? Try these exploding pop rockets and get a bit of science included with your fun. Be sure to stand back 🙂
Boats
Handmade boats. Charming, aren't they? Here is a very easy to make a wax boat.
If you want a bit more construction experience go for this boat made from corks. Be sure to try various configurations to see which float best.
Water Wall
Summertime is perfect for a water wall. This one uses a pegboard to hold the different pieces.
Here is another version. This one uses lattice as a backboard.
A suggestion on the water walls. Try to make it so that the parts can be moved around. If they are simply fixed to the board it will hold a child's attention for a while but if they can move the parts around, they will learn the most and want to continue playing with it again and again.
Be sure to get your kids involved in the whole process – from choosing the project, to making the list of things you need, to finding materials, to constructing the toy, and right on through to the playing.
Enjoy these DIY Summer Toys. There is nothing more fun than making your own toys. The kids learn a lot and they really get satisfaction from being able to say "I made that"!
Other Topics You May Enjoy
Latest posts by Sheila Rogers
(see all)