This post may contain affiliate links. Please see my full disclosure policy for details.
Check out these free Thanksgiving printables that can be printed from your computer. Use them to decorate your home for Thanksgiving or print them out and frame them as a gift for family and friends.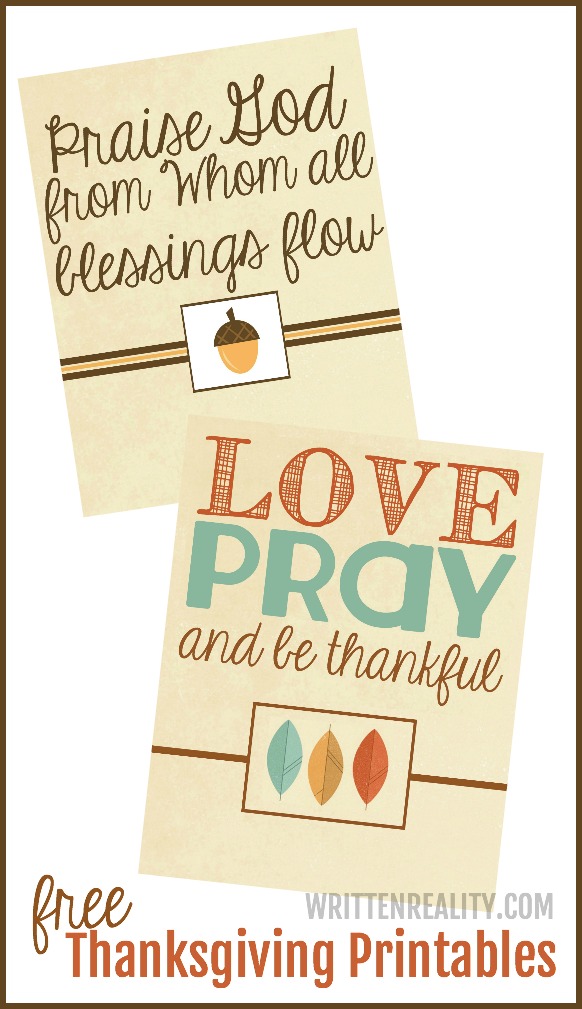 It's a shame we fast forward through Thanksgiving. One day we're wearing costumes and bobbing for apples, and all too soon we're hanging mistletoe and trimming the tree. Thanksgiving has become more of a stepping stone between seasons rather than a destination. It's become more of a mark on the calendar to signify shopping days rather than its original intent.
So what are we thankful for? And should we designate a day such as Thanksgiving to set aside time to give thanks?
Growing up, Thanksgiving, for me, was a feasting day. We'd gather at my aunt's house and fill our bellies full of all those traditional favorites, while enjoying the time spent together. But now that I'm older and raising a family of my own, I've come to cherish Thanksgiving and felt a greater need to celebrate the day in a way that demonstrates what gratitude and giving thanks should be.
Free Thanksgiving Printables
Lately, I've been looking for easy and inexpensive ways to decorate our home for Thanksgiving. I wanted just a few ideas that were simplistic enough to incorporate within my everyday decor, but would stand out enough as a reminder to keep thankfulness at the forefront and remind us to enjoy our moments right now.
So I created two Thanksgiving printables. Both are simplistic and seasonal, but more important, they focus on our Creator–the One who deserves all the honor, thanks, and praise.
Though thanksgiving should be continuous and daily, Thanksgiving is a great place to start. Let's make this Thanksgiving the kickoff for a whole new year of thankfulness. Let's keep our thoughts centered within His grace and mercy so that we can offer His love to someone else.
Print your free Thanksgiving Printables here:
Love Pray and Be Thankful Printable
Praise God From Whom All Blessing Flow Printable
Other Thanksgiving Resources
Let's Take Turkey With These Free Thanksgiving Worksheets
Thanksgiving Activities for Families to Enjoy Together
Thanksgiving Dinner Conversation Cards
How to Bake the Perfect Turkey
Traditional Cornbread Dressing
Share these free Thanksgiving printables with your family and friends! Click To Tweet

Other Topics You May Enjoy