This post may contain affiliate links. Please see my full disclosure policy for details.
Need a few summer ideas for outdoor fun? Check out these Family Fun Outdoor Games!Playing together as a family leads to so many wonderful memories. I remember my brothers and I running around in the backyard while our dad chased us with the hose. Or those lazy days where we relaxed and played croquet together. Great times.
I publish the Brain Power Boy website and share information on boys' learning as well as a lot of activities for boys. I am happy to be here sharing some outdoor activities with you today.
Play and learning go hand-in-hand. A really great way to keep kids learning is to play with them. Not every learning activity has to involve sitting down at the kitchen table for an educational game. Learning happens all the time.
I'm sure your boys will enjoy these outdoor games, and so will the whole family!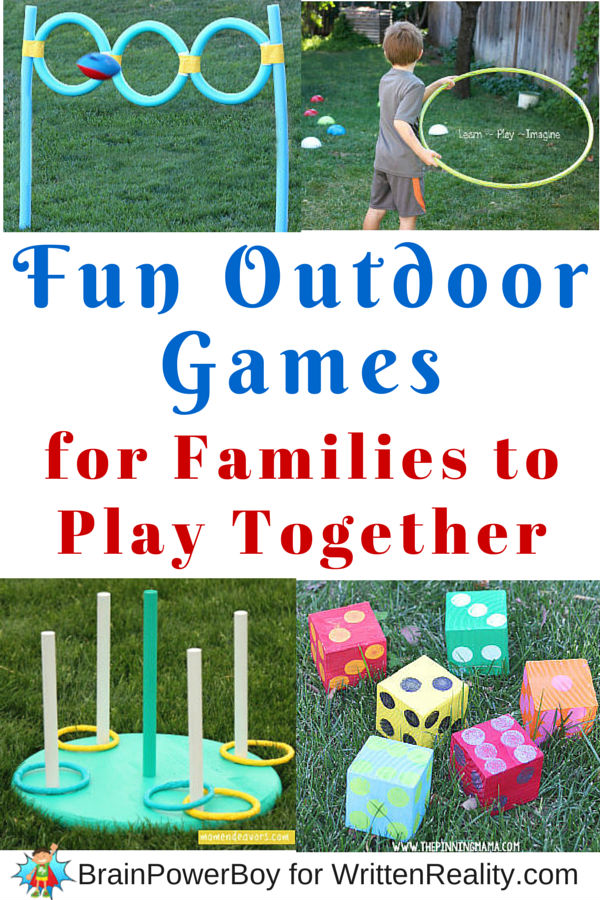 Activities for Boys and their Families: Outdoor Games
This DIY Ring Toss game looks like a great family project. Start off by building it together and then play as a family.
We think this is pretty cool and sports families will love it. Make a Football Pool Noodle Toss game.
Try Balloon Archery! We had a ton of fun with this one. Several different games are available. If you don't have bows you could throw balls instead.
Make your own inexpensive Yard Yahtzee game. It's Yahtzee – giant sized.
Get out the hula hoops and play this easy Hula Toss. You can use anything for markers. Come up with variations of this simple game to fit the ages of your kids.
Try some Flashlight Games. Flashlight Freeze is super fun. It gets everyone laughing!
Have a photo scavenger hunt. Here are two ideas. Have one person take photos ahead of time and make a printout of those photos for others to find (see this example). Or get out the cameras and make a list of things such as an insect, an unusual flower, shaggy bark, something red, a street sign etc. Have everyone go take pictures and meet up in 20 minutes. It is fun to look at what each person found.
Mitzi has a very Cool Trophy for family game night that could be used for your family games too.
I hope you have a blast playing some fun outdoor games together as a family.
You might also like:
Unplugged Games for Boys
Dinner Games for Family Fun

Visit Brain Power Boy's profile on Pinterest.


Latest posts by Sheila Rogers
(see all)