This post may contain affiliate links. Please see my full disclosure policy for details.
God Bless America Printable : Celebrate your patriotism with this FREE God Bless America Printable created in 2 sizes. It's a super easy holiday decoration idea!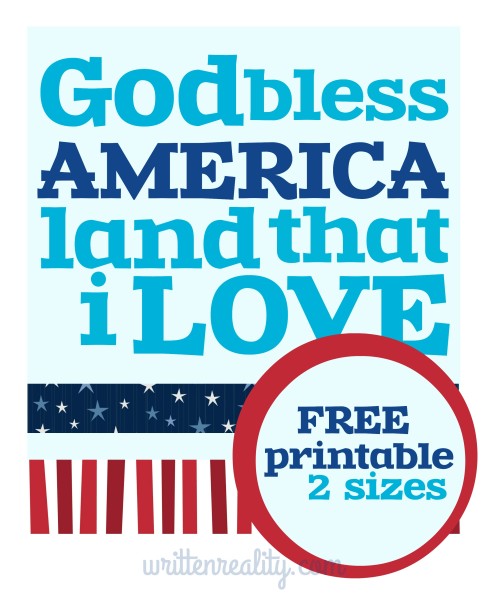 I love trying to find easy and inexpensive ways that I can add a little fun to our family fun celebrations. So on Memorial Day and the 4th of July, I'm always on the lookout for festive decor to demonstrate my patriotism with all that's red, white, and blue.
There's just something beautiful about those colors sprinkled around our house and backyard during the summer months that makes me happy.
However, I don't spend that much on Memorial Day or 4th of July decorations. I just buy a few fun trinkets and add a couple of printables to my picture frames to display around the tables and other gathering spots.
I love using fun free printables. They're easily changeable and look great on a mantle or included with a centerpiece. Just pop the seasonal print into a fun frame and it's ready. It makes holiday decor super easy without the fuss or where to store them.
Don't miss our Outdoor Games for Summer to play at this year's summer picnic!
God Bless America Printable
I decided I would create this one in two sizes to make it even more versatile. Simply click on the picture for the size of the God Bless America Printable you'd like to print and enjoy!
Here's a seasonal tip:
Purchase basic frames that can carry you through every season. I like to use white so that the colors in the graphic really pop. Store all of your same sized seasonal printables stacked together in the same frame and you can keep it out all year long. Your printables will stay protected and you'll always know where to find them.
Other Topics You May Enjoy