This post may contain affiliate links. Please see my full disclosure policy for details.
How to Play Marbles : Playing marbles can be tons of fun for the whole family. Here is how to play classic marbles with a free printable instructions card included.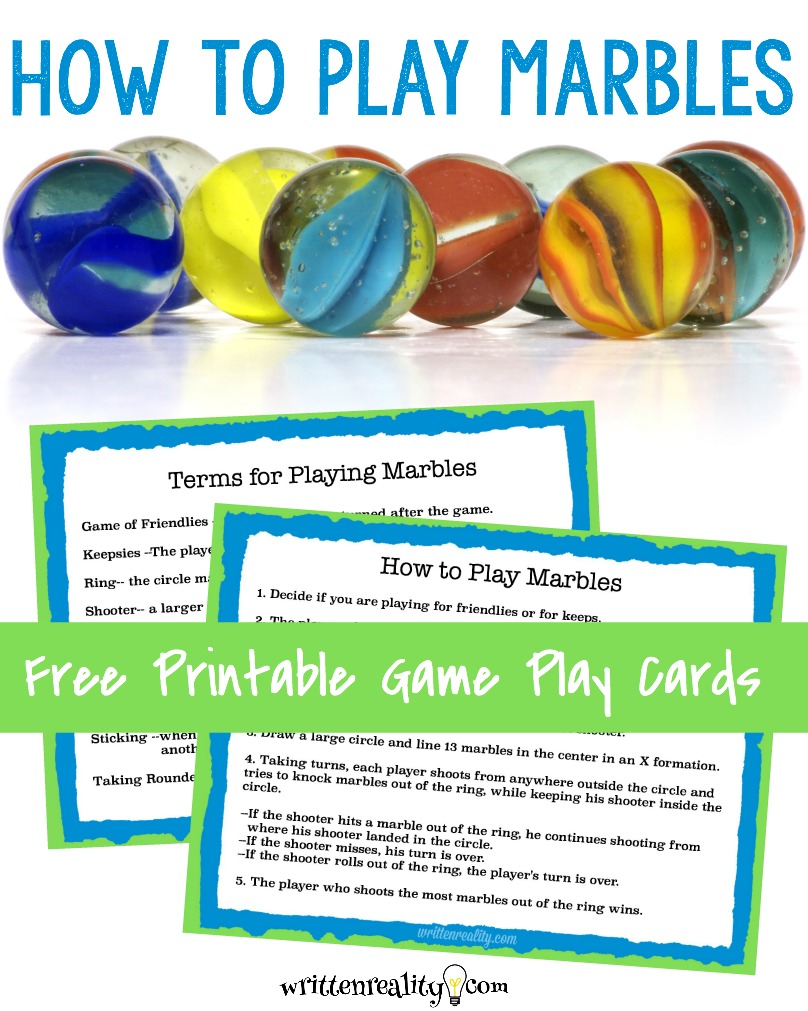 As a kid, I spent the summer hanging out with neighbors, riding my bike, and drinking from the water hose. We'd stay outside playing everything from hopscotch to Chinese jump rope, until the sun set and our moms began calling us home. Those long summer days hold great memories that I wish my kids could experience, too.
>>10 AWESOME Board Games Every Kid Should Play<<
The dirt road that ran alongside our house was perfect for playing marbles. I had a large tube sock full of cat eyes and steelies, and loved playing this game–especially when I won and we were playing for keeps.
There's something special for a kid about her own marble collection. I remember sitting in the grass after playing and pulling out each marble just to admire the wonderful colors and striped patterns, counting my collection and sorting them by patterns over and over again.
Teach your kids how to play marbles--free printable instructions included! Click To Tweet

How to Play Marbles
Playing marbles, however, has become less popular these days. With so many video games and other toys to choose from, many kids have never been able to experience the fun we had years ago drawing a large circle and taking turns shooting the marbles in an attempt to knock the others out of the ring.
>>Make A Trophy For Family Game Night<<
Playing marbles is super easy to play and can be lots of fun for kids to discover. There are plenty of ways to play, and most times the way we played was determined by how many were playing and how long we wanted to play.
If you are interested in teaching your family how to play marbles, I've included a couple of printable cards, including basic marble terms and a card on how to play. Simply click the link below and print your own copy. It's free!
How to Play Marbles Instruction Card
Other Topics You May Enjoy